MOSCOW (Sputnik) — International humanitarian organizations provide no assistance to the civilians of liberated Aleppo, while the fact that the Western media ignores the assistance issue is surprising, a representative of the Russian Defense Ministry said Saturday.
"A month has passed since the liberation of Aleppo. However, the international humanitarian organizations still do not provide real assistance to the civilian population. Meanwhile, the peaceful life in the city is restoring," Gen. Maj. Igor Konashenkov said.
He added that the civilians were returning to their homes, sometimes clearing the remaining mines themselves.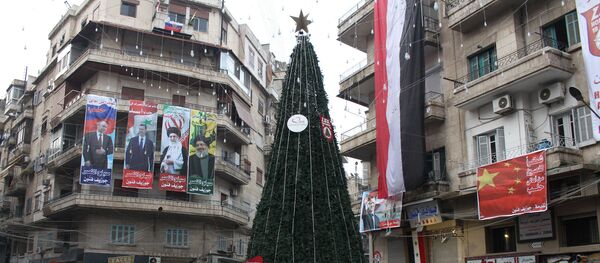 7 January 2017, 17:48 GMT
Konashenkov said it was surprising that "after a period of thorough attention of international demining organizations to Aleppo" there were no offers to provide assistance to the civilians.
He stressed that the Western media had not been covering the issue for a long time, silencing it like it was commanded by someone.
According to Konashenkov, the representatives of UNICEF and UN Office for the Coordination of Humanitarian Affairs (OCHA) knew that most part of Aleppo was safe, therefore it was possible to work there without any risk for life.
"However, Aleppo civilians have been receiving most of assistance from the Russian Center for Reconciliation, the International Committee of the Red Cross and Syrian Arab Red Crescent. Civilians are regularly receiving medicines, food, drinking water, hygiene kits and warm clothes, while the medical assistance is also provided to them," he said.
Syria's civil war between government forces and a wide range of insurgents, including opposition groups and terrorists, such as al-Nusra Front and Daesh, both outlawed in Russia, has raged for some five years and has claimed hundreds of thousands of lives. Aleppo, fought over since 2012, was liberated and fully retaken by the government in late December.