On Thursday, President Obama awarded Biden the Presidential Medal of Freedom, the US's highest civilian award, for his lifetime of service "fighting for a stronger middle class, a fairer judicial system, and a smarter foreign policy."
Throughout Obama's presidency, Biden played a crucial role in helping to shape US foreign policy, and was actively involved in the withdrawal of US troops from conflicts in Iraq and Afghanistan. 
Closer to Russia's borders, Gazeta.ru contributor Valentin Loginov noted, Biden played a decisive role in formulating and implementing US policy in Ukraine, particularly amid the political and military crisis which has rocked the country following the 2014 Maidan coup d'état.

12 January 2017, 22:44 GMT
Biden visited Ukraine on two occasions to push President Petro Poroshenko to conduct structural political and economic reforms. He also urged the Ukrainian government to do more to fight corruption, a move which led to accusations of hypocrisy in 2015 after US media reported that Biden's son Hunter, a former DC lobbyist, was mixed up in corruption schemes of his own in Kiev.
"The credibility of the vice president's anticorruption message may have been undermined by the association of his son, Hunter Biden, with one of Ukraine's largest natural gas companies, Burisma Holdings, and with its owner, Mykola Zlochevsky, who was Ukraine's ecology minister under former President Viktor Yanukovych before he was forced into exile," a New York Times investigation from late 2015 revealed.
© Sputnik / Nikolay Lazarenko
 / Go to the mediabank
Vice President Joe Biden at a meeting of Ukraine's Verkhovna Rada in Kiev. Right: Ukrainian President Petro Poroshenko. Left: Verkhovna Rada Speaker Vladimir Groisman.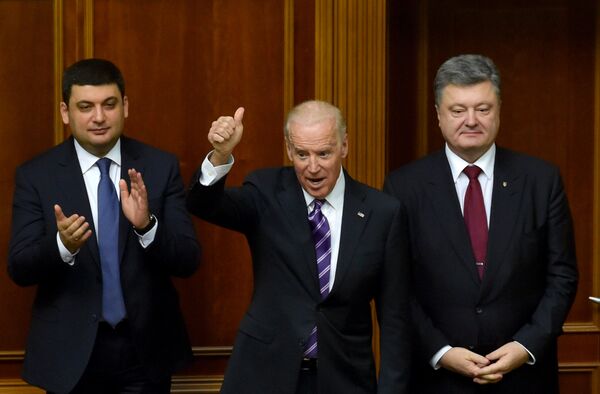 Vice President Joe Biden at a meeting of Ukraine's Verkhovna Rada in Kiev. Right: Ukrainian President Petro Poroshenko. Left: Verkhovna Rada Speaker Vladimir Groisman.
© Sputnik / Nikolay Lazarenko
/
Biden Junior became a member of the board of directors at Burisma just two months after Yanukovych was overthrown. Ukrainian prosecutors accused the company of engaging in money laundering, but the Prosecutor General's Office failed to mention Hunter anywhere in its investigation, presumably due to lobbying by the vice president.
In 2016, Biden pressured Poroshenko to sack Prosecutor General Viktor Shokin. "He even blackmailed the Ukrainian president, saying that the US would not provide Kiev with another loan if he refused," Loginov recalled.
"Petro, you're not getting your billion dollars," Biden quipped, recounting his conversation with the Ukrainian president in The Atlantic.  "It's OK, you can keep the [prosecutor] general. Just understand –we're not paying you if you do," he added.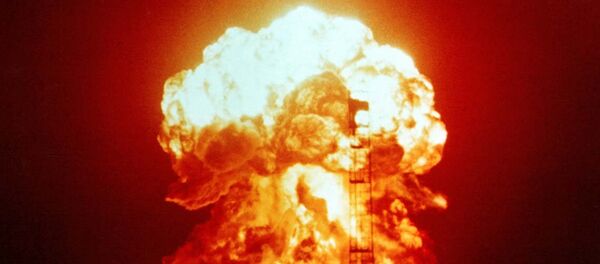 12 January 2017, 18:40 GMT
Throughout the Ukrainian crisis, Biden consistently pushed President Obama to authorize the delivery of lethal weapons to Ukraine for Kiev's military campaign in the east. He actively supported US Congressional efforts to push through the "Stability and Democracy for Ukraine" act, which formally allowed Washington to send the deadly weaponry.
Biden also pressured Kiev to implement economic reforms; otherwise, he warned, the EU may lift its sanctions against Russia.
"Biden," Loginov noted, "curated US policy on Ukraine" during Obama's tenure. Accordingly, as the Obama administration prepares to make way for the Trump team, "Kiev is feeling stressed that in the new administration there will be a gap in lobbying for Ukrainian interests." After all, "Kiev wanted to see Hillary Clinton in the White House, something Ukrainian politicians have said repeatedly."
"However, in spite of all the fears from Ukrainian politicians, Trump's Vice-President elect, Mike Pence, takes a tougher…stance on Russia than Trump," leading to hopes in Kiev that perhaps he can become the new lobbyist for Ukraine's interests in Trump's White House, Loginov added.
This would be the case, the journalist wrote, if the vice president was a truly independent political entity, and not dependent on the political line that is determined by Trump. "Therefore, it's too early to make any forecasts regarding the interaction between Ukraine and the new administration," he suggested.
Speaking to Gazeta.ru, Moscow State Institute of International Relations professor Nikolai Topornin explained that "for now, this equation has several unknowns."
"Biden had more autonomy," Topornin explained, "since he had an understanding of the region. To some extent, he even influenced Barack Obama's decisions, presenting events in a manner that was convenient for him. Pence is not a diplomat or a military man, so he is unlikely to show the same level of independence," the analyst added.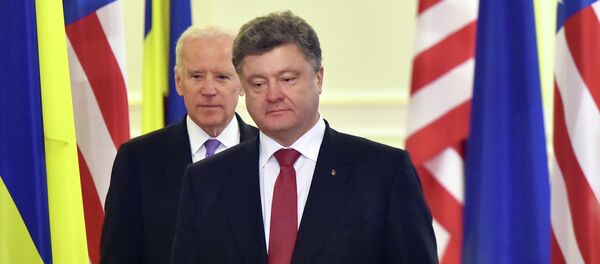 12 January 2017, 10:29 GMT
Alexander Konovalov, President of the Moscow-based Institute for Strategic Assessments, agreed with his colleague, but suggested that Pence may make an attempt to reassure Kiev during the transition to try to preserve a sense of continuity in US policy. Otherwise, he also noted that "vice presidents do not decide policy; everything depends on Trump's position."
Asked what Russia should expect from Trump when it comes to US policy on Ukraine, Topornin suggested that the first thing the new administration will do will be to conduct an audit of the situation in the country. Only after that will they attempt to formulate any sort of policy.
As for Biden and his third and final visit to Ukraine, he will likely make policy recommendations to the Ukrainian government on how to build a relationship with the Trump administration, Loginov concluded.