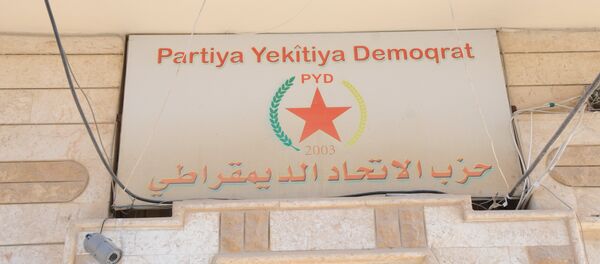 10 January 2017, 14:46 GMT
At the end of December, Russia invited 24 Syrian Kurdish parties, including representatives of the Kurdish Democratic Union Party (PYD) and the Kurdish National Council (ENKS), for talks at its Hmeymim air base in Syria's Latakia to discuss the upcoming peace talks in Kazakhstan.
Nowadays, it is holding negotiations with influential Kurdish politicians and is acting as guarantor of their talks with the Syrian government on federalization, Kurdish politician Ferid Sedun told Sputnik Turkiye.
He said that he has come from the city of Al-Qamishli in northeastern Syria on the border with Turkey to Damascus to discuss a set-up of a federative system on the territories of residence of the Syrian Kurds.
"Several days ago Russian representatives came to Al-Qamishli where we held talks. In continuation of these negotiations they offered to expand the negotiation process and to set up our meeting with the Syrian leadership," Ferid Sedun told Sputnik.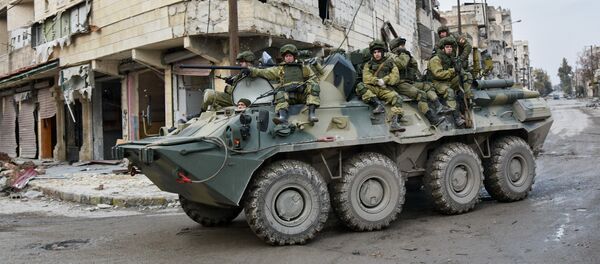 6 January 2017, 13:31 GMT
"Russia has also invited us to its Hmeymim air base in Latakia and we have accepted it," he added.
The politician explained that he together with two independent Kurdish politicians have come to Damascus with the aim to gain progress in negotiations with official Damascus on the set-up of a  federative system and to pave the way for further talks on the issue between the representatives of PYD and ENKS with the Syrian officials.
Ferid Sedun said that within two days he is scheduled travel to Hmeymim base for talks with Russian representatives and then to return to Damascus for talks with the Syrian leadership. The issue on the agenda is the set-up of the federative system of government. However he further specified that it applies not to the whole territory of Syrian but only to the territories of residence of the Syrian Kurds.
The Kurdish politician outlined that Russia is acting as guarantor of these talks and is paying much attention to the negotiations.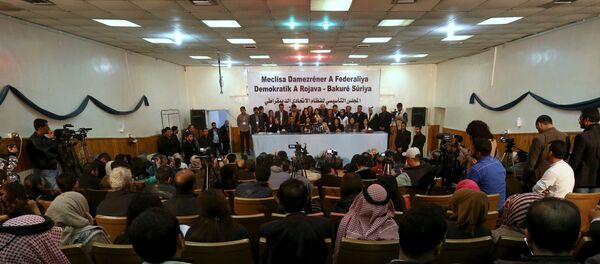 31 December 2016, 18:36 GMT
"We have made a decision to come to these negotiations because Russia has voiced of its role as guarantor of this negotiation process," he said.
He further explained that Russia has an opportunity to have effect on the Syrian government which is uneager to grant certain rights to the Kurdish people.
"Russia is telling us: voice your suggestions and we will discuss them with the Syrian government. If Damascus offers to grant you autonomy, agree to it. The status of autonomy is a good opportunity in current circumstances," the politician said.
He further added that the solution of the existing problems with the Syrian Kurds will "ease the burden" of the Syrian government, thus Russia is eager to solve the Kurdish problem.
Never miss a story again — sign up to our Telegram channel and we'll keep you up to speed!