"Almost 1,000 of US troops are on our territory today. The first [batch of] equipment has also crossed the Polish border," Ministry Spokesperson Bartlomiej Misiewicz was quoted as saying by Polsat TV channel.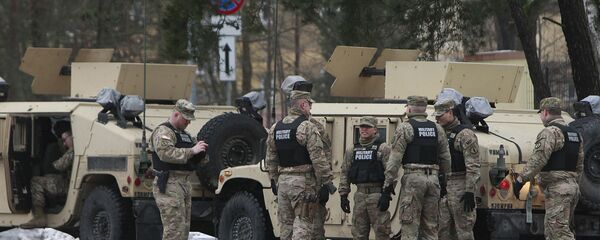 15 January 2017, 09:57 GMT
The extra military presence is part of the Atlantic Resolve operation launched by the US military in April 2014.
The newly-arrived personnel are expected to take part in joint military exercises with European allies. The incoming tank brigade comprises some 3,500 service personnel, 87 tanks, 18 self-propelled Paladin howitzers, 144 Bradley fighting vehicles and over 400 Humwee vehicles.
In July, NATO held a summit in Warsaw, where defense ministers finalized arrangements to deploy multinational NATO battalions to Estonia, Latvia, Lithuania and Poland, totaling around 4,000 troops. The summit also confirmed the deployment of anti-ballistic missile systems and radars in Romania and Poland and confirmed that the United States would deploy 1,000 troops in Poland.
Earlier, Russian Foreign Minister Sergei Lavrov said that Russia was concerned with "NATO's course on deterring Russia, which undermines European strategic stability."
According to the minister, the alliance is "moving military infrastructure, troops and military equipment closer to the Russian border amid a growing number of massive military drills."
Lavrov also expressed regret that "NATO dodges professional dialogue with Russia."
By deploying American troops to Europe on a rotational basis, the United States bypasses existing agreements between NATO and Russia, said Dmitry Efimov, a military and security expert at the Moscow City Council.
"Currently, they are deploying a contingent to Europe on a rotational basis. By doing this, they bypass our agreements on the number of NATO troops along Russia's border. NATO will conduct military exercises for the next nine months, and then the current contingent will be replaced. But there is nothing Russia should fear," Efimov told Radio Sputnik.
According to the expert, the move is an attempt by Washington to solidify its presence in Europe, at least at a tactical level.
"The fact that [outgoing US President Barack] Obama is desperately trying to deploy those troops as soon as possible proves his uncertainty in the future. They want to hold position in Europe, at least at the level of simple tactical moves," he said.
However, Efimov suggested that new US President Donald Trump and his administration are likely to revise this tactic since "Trump is more focused on America's domestic affairs."
The expert also noted that joint drills with the US military is of "ideological importance" to European allies, rather than of strategic significance.
"Our European partners need to stay in good shape. What we are witnessing now is an attempt to find a foreign enemy, instead of fighting domestic ones. The terrorist threat level in Europe is high, and the 'Russian threat' helps distract attention. So, this is a PR campaign, in which the ideological importance [of the deployment of US troops] is much higher than its military significance," Efimov concluded.