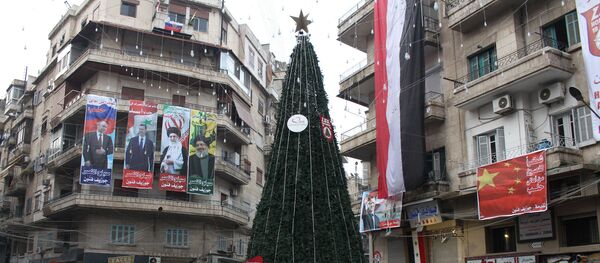 15 January 2017, 11:40 GMT
The Al-Tall street market was closed after being targeted with missiles by terrorist groups. Aleppo locals begin to get back to normal life after the Syrian Army's announcement on December 22, that it had recaptured the whole of eastern Aleppo following four years of militant occupation.
Prior to the conflict, Aleppo was Syria's industrial and financial center. Now the city is trying to return to its previous glory.
Some vendors have already laid out their goods for sale while in the neighboring areas and houses reconstruction work is still ongoing. People are repairing the wiring and electricity is being supplied to the areas.
Armed conflict has been ongoing in Syria since March 2011. For years government troops battled the militants of different armed groups to liberate cities and towns.
On September 30, 2015, Russia at the request of the Syrian President Bashar al-Assad started providing Syria with air support to carry out strikes on the terrorist facilities.
Over the years Aleppo was badly damaged, especially during the past 22 months while it was under terrorist control.
According to the preliminary estimates, damages caused by the hostilities in eastern Aleppo total 800 billion Syrian pounds, with damages to the private sector estimated at another 2.3 billion pounds.
On December 22, Syrian government troops declared that they had suppressed the last pockets of resistance in Aleppo and had taken full control of the city after years of fierce fighting.