MOSCOW (Sputnik) – Earlier in the day, the IMF published a release of the IMF World Economic Outlook, in which the projection of Mexico's economic growth in 2017 has decreased to 1.7 percent from the fund's 2.3-percent estimation made in October.
"The reason behind the [downgrade] is primarily tighter financial conditions which has been a trend for all emerging market economies, but a bit more pronounced in Mexico where markets seem to be concerned about the uncertainty related to the future course of U.S. trade policies," Oya Celasun said during a press conference.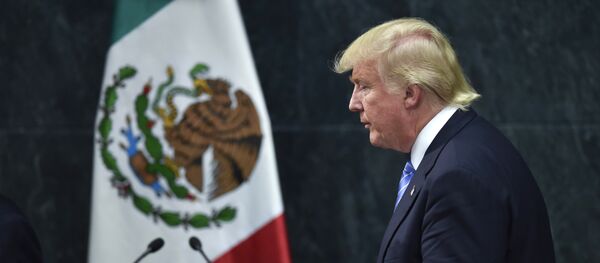 14 January 2017, 11:27 GMT
She added that the tighter financial conditions have "weighed on confidence", and will contribute to "someone weaker" domestic spending.
Trump won November 8 presidential election by gaining a major electoral lead over Democratic nominee Hillary Clinton. During the campaign, as well as after being elected Trump had stated he would build a wall on the US-Mexico border to stop the flow of illegal immigration and deport illegal immigrants.
Expectations of Trump's policy as for Mexico after the inauguration have already affected the Mexican economy and have contributed to the renewal of historical minimum of the Mexican peso's exchange rate against the US dollar.
Never miss a story again — sign up to our Telegram channel and we'll keep you up to speed!