The IMF's January update to its World Economic Outlook, originally published in October, does not revise overall growth projections for 2017 (3.4 percent) or 2018 (3.6 percent), meaning the overall global economy will continue expanding at a sluggish pace. At a mere 3.1 percent growth, 2016 marked the slowest rate of economic expansion since the financial crisis of 2008/9.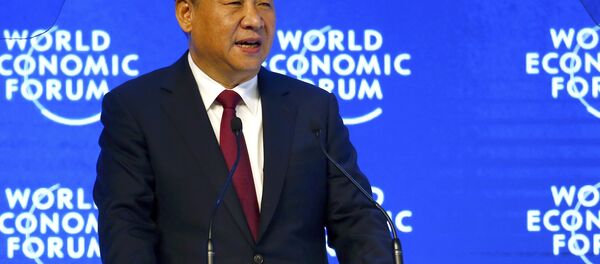 17 January 2017, 14:28 GMT
However, on a country-and region-specific level, several projections were revised. Growth in the UK was originally predicted to be 1.1 percent, and this has risen to 1.5, but 2018 expectations have been cut from 1.7 to 1.4 percent. While acknowledging businesses and consumers have shrugged off the Brexit referendum result, the IMF noted that while the terms of Britain's secession from the European Union remained uncertain, so too did the country's economic prospects.
A spokesperson for the UK Institute for Economic Affairs (IEA) says the revision is a demonstration that "expert" predictions should not be viewed as "firm scientific predictions of what's actually going to happen."
"While the IMF predictions are well-intentioned and well-informed, these experts simply cannot predict the future to the nearest decimal point. Economics can help us to try and understand what's going on in the world, but we shouldn't assume that everything experts like the IMF predict is right — as their U-turn proves. That's not to say we should totally disregard them and their work, but we should not consider their outlooks to be firm. Economics simply isn't that reliable," the (IEA) spokesperson told Sputnik.
In his press briefing on the outlook, Maurice Obstfeld, IMF chief economist, cautioned governments to react carefully to growing political concerns over the impact of globalization and technology on workers in some industries.
"Social dislocation due to globalization and technology change is a major challenge that will only intensify in the future. Rolling back economic integration would impose aggregate economic costs without reducing the need for government investment in well-trained, nimble workforces, along with policies to promote better matching of available jobs to skills," Obstfeld said.
The cluster of concerns cited by Obstfeld echoed the worries expressed in the World Economic Forum's, Annual Global Risks report for 2017, which said rising income and wealth disparity, social polarization and job-killing technology could reverse globalization, and threaten democracy.
Many of the revisions downwards this year are expected by the IMF to be offset by growth in developed markets, such as the US, Germany, Japan and the wider Eurozone, and faster than previously predicted growth in China (6.5 percent).
However, other emerging economies aren't forecast to do so well.
Brazil is expected to grow by just 0.2 percent this year, and Trump's continued hardline on Mexico, which has kept the peso in freefall since November, means the country's growth prospects are expected to be around 1 percent, rather than the 2.5 percent predicted in October. India's currency reforms are also set to hamper India's growth by as much as a percentage point from its original projection, although it is still expected to reach 7 percent at least.