ANKARA (Sputnik) — Earlier Wednesday, the Russian General Staff said Russian and Turkish combat planes carried out their first joint airstrikes against Daesh targets in war-torn Syria.
"Under the agreement on prevention of incidents, signed between Turkey and Russia, today, as a result of successful coordination, Russian aircraft carried out an air operation against designated Daesh targets in the south of Al-Bab," the statement said.
"Nine strike aircraft of the Russian Aerospace Forces, including four Su-24M, four Su-25 and one Su-34 bomber, as well as eight Turkish Air Force's jets — four F-16 and four F-4 aircraft — are involved in the aerial campaign agreed with Syrian authorities," Lt. Gen. Sergei Rudskoy, the chief of the Russian General Staff Main Operational Directorate, said at a news briefing in Moscow earlier in the day.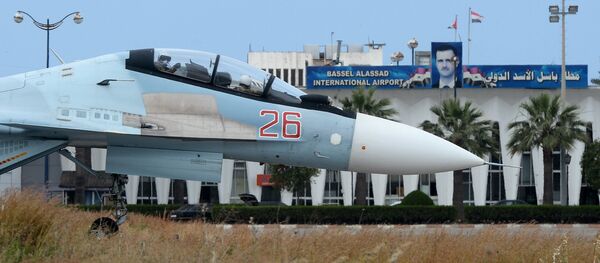 16 January 2017, 11:50 GMT
The news comes amid a nationwide ceasefire in Syria backed by Russia and Turkey which
came into effect on December 30
and was later
supported by a UN Security Council resolution
.
Turkey is currently conducting an operation in Syria dubbed Euphrates Shield. On August 24, Turkish forces, supported by Free Syrian Army rebels and US-led coalition aircraft, began a military operation dubbed the Euphrates Shield to clear the Syrian border town of Jarabulus and the surrounding area from Daesh terrorist group. As Jarabulus was retaken, the joint forces of Ankara, the coalition and Syrian rebels continued the operation to gain control over Al-Bab in the Aleppo province.
Al-Bab is one of Daesh's last remaining strongholds near the Turkish border. Capturing the city is of strategic importance to Turkey in order to prevent the Syrian Kurds taking it and unifying their own territories.