MOSCOW (Sputnik) — Pakistan is ready to use all the weapons at its disposal to defend itself in the event India invades, in the wake of Indian army chief's statement they would attack Pakistan in case of terrorist attacks, media reported citing Pakistani officials.
"If ever our national security is threatened by advancing foreign forces, Pakistan will use all of its weapons — and I mean all of our weapons — to defend our country," one of the officials told The Financial Times.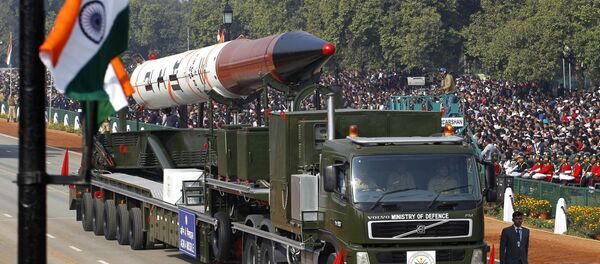 5 January 2017, 21:45 GMT
Pakistan is one of the countries that possesses nuclear weapons.
Earlier this month, Indian Army chief Bipin Rawat spoke about the existence of a "cold start," a strategy that enables the army to instantly respond to crises, such as militant attacks, without letting the enemy prepare or triggering a nuclear response.
Since the establishment of India and Pakistan after the British India dissolution, the two states have had territorial dispute over the Kashmir region. The tensions rose after the Indian army base at Uri in Kashmir was attacked in September last year, with 19 soldiers being killed. India responded by conducting surgical strikes on the border with Pakistan.