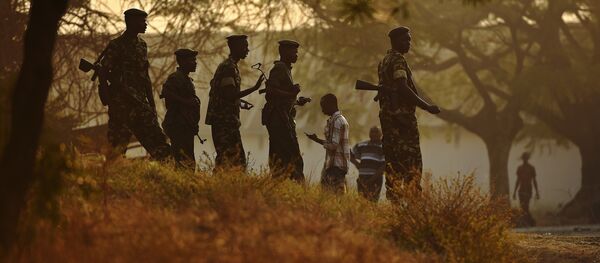 1 January 2017, 23:50 GMT
MOSCOW (Sputnik)
–
In an effort to curtail the deadly violence at the hands of the Imbonerakure, the Burundi ruling party's youth league, the UN Security Council should impose targeted sanctions on those individuals responsible for attacks on people in Burundi, a watchdog said in a press release Thursday.
"The UN Security Council should impose travel bans and asset freezes against individuals responsible for ongoing serious human rights violations in Burundi … Asset freezes and travel bans would directly target abusers, and would have no negative effect on the broader Burundian population," Human Rights Watch (HRW) said in the release.
In the statement, HRW Central Africa Director Ida Sawyer also urged both the UN Commission of Inquiry and the International Criminal Court (ICC) to "mobilize at the highest levels" and take action to make sure those responsible for violence are held accountable, and to make sure the violence and abuse in Burundi ends.
"Burundians live in fear of the next attack, afraid to speak out to denounce the killings, torture, and other abuses. The killers and torturers who carry out violence so freely and the Burundian officials who support them need to know that there are consequences for their actions," Saywer added.
The Imbonerakure (translated as "those who see far" from Kirundi, Burundi's predominant language) have been active since 2009, and have been responsible for a number of violent crimes and human rights violations including rape, torture, and murder. In 2010, the youth group allegedly used imitation and harassment tactics against political opposition in order to influence the re-election of ruling party President Pierre Nkurziza.
Never miss a story again — sign up to our Telegram channel and we'll keep you up to speed!