NEW YORK (Sputnik) — A non-violent demonstration was organized by New York's branch of Democratic Socialists of America on Friday, the largest socialist organization in the United States with around 12,000 members.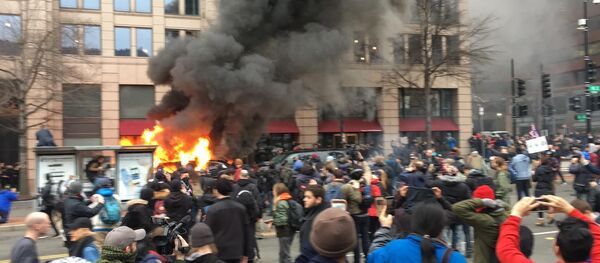 20 January 2017, 21:25 GMT
The group estimated on its Facebook page that the rally drew nearly 5,000 protesters, while some media outlets estimated that up to 11,000 people were involved.
Socialist Alternative NYC, Green Party of New York State, Socialist Students, Metropolitan Council on Housing, Rise and Resist, and Young Democratic Socialists were among the participating organizations.
Demonstrators rallied against mass deportation of immigrants, healthcare cuts, racial discrimination, hatred, and women's and workers' rights abuses.
Protesters began gathering on Foley Square in Downtown Manhattan around 5 p.m. (11 p.m. GMT), with the intention to march down to Trump Tower on Wall Street in the next hour.
On Friday, numerous organizations and groups throughout the United States joined forces to mark the inauguration of the 45th American president with demands for renewed commitment to the diversity of cultural, political and social values.
Never miss a story again — sign up to our Telegram channel and we'll keep you up to speed!