DAVOS (Sputnik) — The interest of foreign investors in Russia in Davos is huge, it exceeded the expectations of the Russian delegation, Russian First Deputy Prime Minister Igor Shuvalov said Friday on the sidelines of the World Economic Forum in Davos.
"As regards the economy and potential opportunities in Russia, there is a huge interest. Frankly speaking, we thought it would be a little more modest, but the interest is huge. We meet with investors, with political scientists, answer questions," Shuvalov told reporters.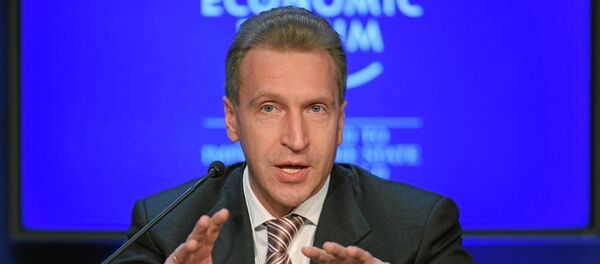 19 January 2017, 18:04 GMT
Shuvalov noted that he had met in Davos with US investors to discuss initiatives to promote business dialogue between Russia and the United States.
"Yesterday I had meetings with American businessmen, who put forward some initiatives, want to establish Russia-US business dialogue before the dialogue starts between the presidents," Shuvalov said.
He said Russia expects the US side to put forward proposals on the format of the meetings.
"We agreed that we would wait for proposals. These proposals will come within a few weeks, we will see," Shuvalov said.