Trump started his speech by thanking everyone, from former presidents to "people of the world."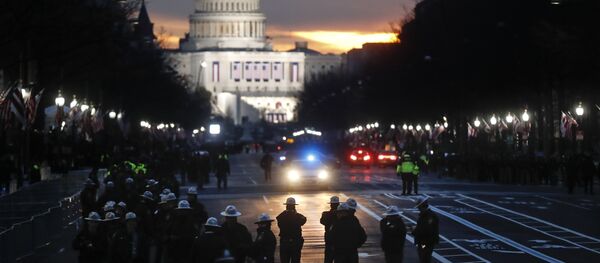 20 January 2017, 16:57 GMT
He then claimed that this was not an ordinary transfer of power, but one from "Washington DC to you, the people." "Washington flourished, but the people did not share in its wealth. Politicians prospered, but the jobs left and the factories closed. The establishment protected itself, but not the citizens of this country. Their victories have not been your victories."
Trump called on the "struggling families" who many believe ushered him to an electoral victory in November. "January 20, 2017, will be remembered as the day that the people became the rulers of this nation once again. The forgotten men and women of our country will be forgotten no longer."
He listed "mothers and children in poverty", rusting factories, and a flawed education system that leaves "students deprived of all knowledge." He also mentioned the "crime, and the gangs, and the violence" that plague America's major cities and pledged to put a stop to it.
He then turned to foreign policy and global trade. "We've defended other nations' borders while refusing to defend of our own," he said in a thinly-veiled reference to illegal immigration from Mexico and Central America. "We've made other countries rich while the wealth, strength, and confidence of our country has dissipated over the horizon."
"From this moment forward, it'll be America first. America first!" repeated Trump, ensuring that all of his administration's decisions will be made with that in mind. "I will never, ever let you down," he vowed.
"America will start winning again, winning like never before. We will bring back our jobs, we will bring back our borders, we will bring back our wealth, and we will bring back our dreams."
He repeated his promise to improve infrastructure once more, as well as to "get our people off welfare and back to work, rebuilding our country with American hands and American labor."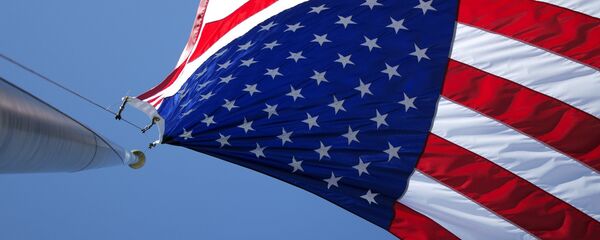 20 January 2017, 16:57 GMT
"We will follow two simple rules: buy American and hire American." He emphasized that he did not wish to impose American values on foreign nations, but rather seek "goodwill and friendship" with the understanding that America's first interest was the US.
He then swore to eradicate "radical Islamic terrorism," a term President Obama refused to utter. Regarding the frequent criticisms of Trump's rhetoric as divisive and bigoted, he claimed that "when you open your heart to patriotism, there is no room for prejudice… when America is united, America is totally unstoppable."
"There should not be fear. We are protected, and we shall always be protected by the brave men and women of our law enforcement. And most importantly, we will be protected by God."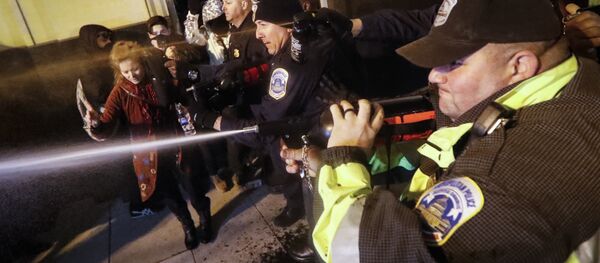 20 January 2017, 16:28 GMT
"We will no longer accept politicians who are all talk but no action, constantly complaining but never doing anything about it. The time for empty talk is over. Now arrives the hour of action," said Trump in a seeming reference to his predecessor's administration.
He then brought the subject to science, in particular space exploration, medicine, and advanced technology.
"And whether a child is born in the urban sprawl of Detroit or the windswept plains of Nebraska, they look up at the same night sky, they fill their heart with the same dreams, and they are infused with life by the same almighty creator."
He called on all Americans to "hear these words: you will never be ignored again. Your voice, your hopes, and your dreams will define our American destiny."
"Together, we will make America strong again, we will make America wealthy again, we will make America proud again, we will make America safe again, and yes, together we will make America great again. Thank you and god bless America," President Trump concluded.