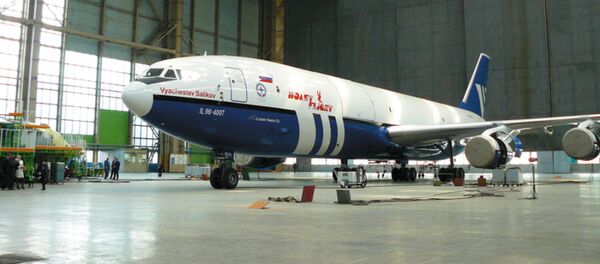 16 January 2017, 14:56 GMT
Russia's Defense Ministry is considering replacing its aging fleet of Tu-164, Tu-134 and Il-62M jet airliners with newer models like the Tu-214 and Sukhoi Superjet 100, according to the Russian newspaper Kommersant.
Furthermore, according to RIA Novosti, the Ministry of Industry and Trade press service said that the United Aircraft Corporation "can manufacture and supply Tu-214, Tu-204SM, SSJ-100 and Il-96-300 aircraft to the Defense Ministry."
However, it should be noted that the Ministry of Industry and Trade hasn't yet received any such orders from the military.
Yuri Sytnik, a decorated Russian pilot, pointed out that these new aircraft models clearly surpass the aging passanger airliner fleet of the Defense Ministry: for example, while the Tu-134 can carry up to 70 passengers consuming 3 metric tons of fuel per hour, SSJ-100 can carry up to 100 passengers and requires only 2 tons of fuel per hour.
At the same time, he pointed out, many of the ministry's passenger aircraft that have been in service for two to three decades now have yet to exhaust their flight life and thus may still be kept in action for the next ten years with proper maintenance.
His concerns were echoed by aviation analyst Roman Gusarov.
"The Tu-154 that crashed near Sochi, despite being relatively old, had clocked only 7,000 flight hours, which equals roughly to two to three years in service, as per civil aviation standards," he pointed out.
Furthermore, Gusarov added, it appears unlikely that the Defense Ministry might decide to replace its Tupolev airliners with Sukhoi Superjets as virtually all of the latter's components are manufactured abroad.
"A plane that may experience an absence of replacement parts cannot be employed by the Defense Ministry, especially when sanctions are imposed (against Russia)," he explained.
The Tu-214, however, is a reliable aircraft that may indeed serve as an adequate replacement for the older planes used by the Defense Ministry.
"It is a very good, wonderfully manufactured machine which unfortunately was created too early, when Boeing and Airbus aircraft were a priority," said Sytnik, who was the first pilot to fly a Tu-214 after it was successfully tested.
He pointed out that the Tu-214 is adapted to the extreme cold and can fire up its engines with the outside temperature as low as minus 55 degrees Celsius – the kind of cold that Boeing and Airbus planes cannot endure.
However, at this time the number of passenger aircraft that Russia's Defense Ministry may need to replace is 66: namely, thirty six Tu-134, twenty one Tu-154 and nine Il-62 planes. But it'll take at least 20 years to replace all 66 aircraft with Tu-214 planes.
"Our aviation industry cannot supply 60 aircraft outright, the maximum Tu-214 output  is only three planes per year," Gusarov explained.
At the same time, he noted, a "gradual transition" to the new aircraft model would not only allow the Defense Ministry to upgrade its fleet of passenger airliners, but also provide new contracts and jobs for Russian aircraft factories.
And if Russian aircraft industry would keep getting new contracts and funds from the Defense Ministry, then it is quite possible that "in five to ten years Russia would get a new, high-quality aircraft," Sytnik added.