ASTANA (Sputnik) — Earlier in the day, UN Special Envoy for Syria Staffan de Mistura and his deputy, Ramzy Ezzeldin Ramzy held a meeting with the Russian delegation.
"Arrangement of the meeting of the three countries who have influence on the fighting sides is an important one. If that can stabilize the cessation of hostilities — that is what Syrians are looking for," de Mistura said.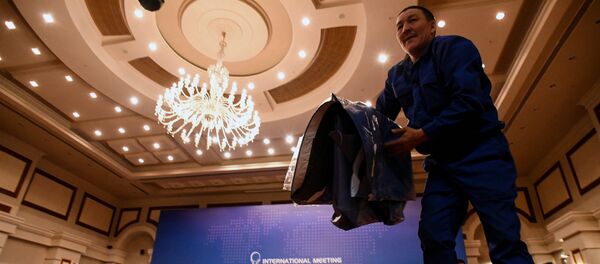 22 January 2017, 17:17 GMT
The meeting between the Russian delegation, de Mistura and Ramzy, ended after almost an hour.
The meeting was the last for today for the Russian delegation, since the main talks are to kick off tomorrow. Thus, the Russian delegation has finished the first day of marathon talks, which continued almost 24 hours, since one of the meetings lasted over five hours. A new marathon, the negotiations with representatives of Syrian delegations, will start tomorrow at 1.00 p.m. (7:00 GMT), and is likely to finish in 24 hours, according to the Kazakh side.
The meeting took place in the Mariott hotel where Russian delegation is staying.
Never miss a story again — sign up to our Telegram channel and we'll keep you up to speed!