ASTANA (Sputnik) —  This is the first time, when Damascus and the armed opposition sit together at the negotiating table since the start of the conflict in the Arab country. Kazakh side expects the meeting to last through Tuesday.
"Iran, Russia and Turkey reiterate their determination to fight jointly against ISIL/DAESH and Al-Nusra [Front] and to separate from them armed opposition groups," the draft reads as quoted by the media outlet.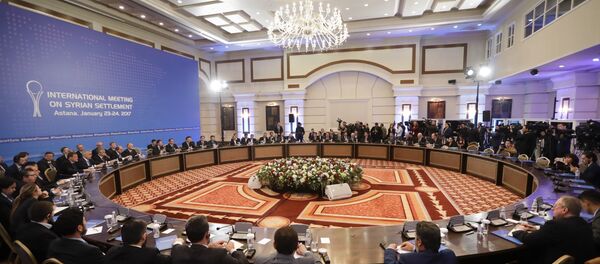 23 January 2017, 08:24 GMT
The final document of the Astana talks on Syria envisages the establishment of a trilateral mechanism to monitor the ceasefire in the country, according to the document.
The delegations of Iran, Russia and Turkey "decide to [consider the establishment] establish a trilateral mechanism to observe and ensure full compliance with the ceasefire, prevent any provocations and determine all modalities of the ceasefire."
The Syrian government and the armed opposition are negotiating behind the closed doors. Damascus delegation is set to speak first, followed by the armed opposition, Russia, Iran, Turkey, the United States and the United Nations.