The United States has provided coordinates of the terrorists' targets in the city of Al-Bab in Aleppo province for Russian airstrikes. After the reconaissance check, Russia and two coalition jets have conducted joint airstrikes on the Daesh targets in the region.
"On January 22, the Russian command center at the Hmeymim airbase has received coordinates of Daesh targets in Al-Bab, Aleppo province, via the 'direct line' from the US-led coalition headquarters. After further data verification with the assistance of unmanned aircraft and space reconaissance, the Russian Aerospace Forces and two jets of the international coalition have conducted airstrikes on the terrorists' targets," the statement said.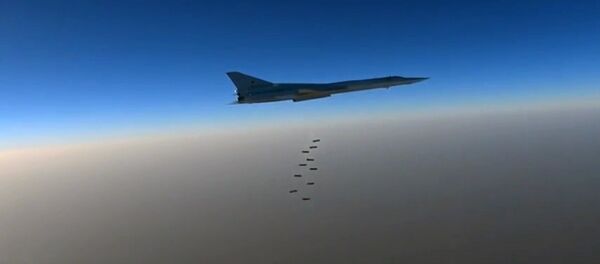 23 January 2017, 11:43 GMT
As a result, several ammunition depots, military hardware and fuel products were destroyed.
Later on Monday, US Department of Defense spokesperson Adrian Rankine-Galloway told Sputnik that the the United States has not coordinated counterterrorism strikes in Syria with Russia. "The Department of Defense is not coordinating airstrikes with the Russian military in Syria," Rankine-Galloway said.
Earlier, Russian and Turkish combat planes have carried out a new series of joint airstrikes against Daesh targets in war-torn Syria, the Russian Defense Ministry said on Monday.
"The Russian and Turkish planes carried out joint airstrikes against Islamic State terrorists in the outskirts of the town of al-Bab in Aleppo province on January 21," the ministry said in a statement.
According to the statement, the missions involved three Russian planes, including two Su-24M and a Su-34 aircraft, and four Turkish planes, including two F-16 and two F-4 fighter-bombers.
The news comes amid a nationwide ceasefire in Syria backed by Russia and Turkey which came into effect on December 30 and was later supported by a UN Security Council resolution.
Turkey is currently conducting an operation in Syria dubbed Euphrates Shield. On August 24, Turkish forces, supported by Free Syrian Army rebels and US-led coalition aircraft, began a military operation dubbed the Euphrates Shield to clear the Syrian border town of Jarabulus and the surrounding area from Daesh terrorist group. As Jarabulus was retaken, the joint forces of Ankara, the coalition and Syrian rebels continued the operation to gain control over Al-Bab in the Aleppo province.
Al-Bab is one of Daesh's last remaining strongholds near the Turkish border. Capturing the city is of strategic importance to Turkey in order to prevent the Syrian Kurds taking it and unifying their own territories.