Without explicitly outlining the President's plans, Spicer said, "I'm not going to get in front of the President's executive actions, but I will tell you that areas like Dakota and the Keystone pipeline, areas that we can increase jobs, increase economic growth and tap into America's energy supply more—that's something that he's been very clear about."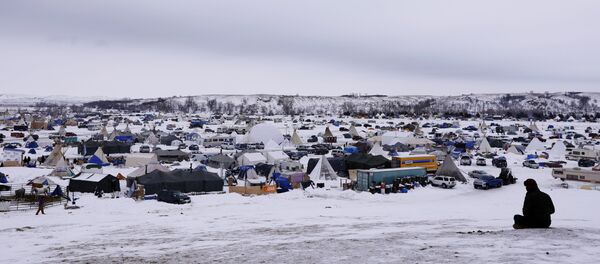 14 January 2017, 21:53 GMT
A December decision by the US Army Corps of Engineers denying an easement allowing construction under the Lake Oahe reservoir put the future of the $3.8-billion pipeline in limbo.
The move came amid months of massive protests from North Dakota's Standing Rock Sioux tribe and their supporters who detailed that pipeline threatened the water supply and desecrated tribal lands.
Once the decision was handed down, Standing Rock Sioux chairman David Archambault encouraged activists and police forces to leave the protest site near Cannon Ball, North Dakota.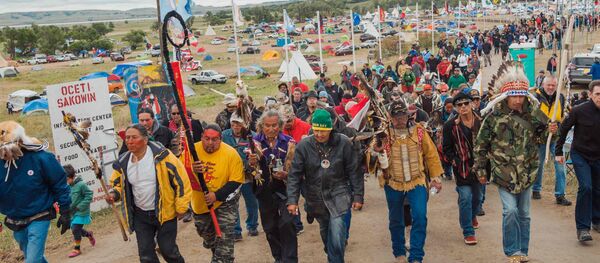 7 December 2016, 01:33 GMT
He said, "We're thankful for everyone who joined this cause and stood with us…The people who are supporting us… they can return home and enjoy this winter with their families. Same with law enforcement. I am asking them to go."
But Charlotte Bad Cob, of South Dakota's Pine Ridge Reservation, had a feeling that the fight is not over. "I think this is just a rest…With a new government it could turn and we could be at it again." 
Spicer's remarks appear to confirm comments made by Trump on campaign trail, in which the latter voiced his support for completion of the pipeline, resulting in claims of conflict of interest, as Trump owns a stake in Energy Transfer Partners, the Dallas-based company chiefly responsible for the pipeline's construction.
A daily briefing refuting these criticisms said that Trump's support of the project, "has nothing to do with his personal investments and everything to do with promoting policies that benefit all Americans," and that, "Those making such a claim are only attempting to distract from the fact that President-elect Trump has put forth serious policy proposals he plans to set in motion on Day One."
The 1,172-mile pipeline was designed to carry 470,000 barrels of crude oil a day from North Dakota to Illinois.