Speaking to Sputnik, Mark Kaye, Save The Children's humanitarian advocacy adviser for Yemen, said the scale of the crisis was "absolutely unparalleled" and suggested the UK and US governments were failing to prevent violations of Yemeni rights, with hundreds of thousands of minors across Yemen acutely malnourished and facing extreme deprivation on a daily basis.
According to United Nations estimates, over three million women and children suffer from malnutrition, of which 400,000 are children under the age of five.
"People across the country are affected, not merely those in rebel areas. The country's situation represents the world's largest humanitarian emergency at the moment.
"Children face starvation, and entire systems and structures are being wiped out. When I visited the country in November 2015, I visited a school that had been caught by an airstrike two days prior — the attack killed a teacher and several students, and blood was still drying in pools in the playground. The conflict started that year — things have not improved since I left," Kaye told Sputnik.
Despite the crucial role played by governments such as the US and UK in nurturing and sustaining the conflict, by providing consistently strong and apologetic diplomatic support and billions in arms and munitions, Kaye does not lay blame for the crisis entirely at the West's proverbial feet. Instead, he apportions culpability to the Saudi-led coalition, for "consistently" failing to meet minimum standards of international law to ensure civilians "aren't being targeted or hit indiscriminately, and landmines are not being laid in civilian areas."
Nonetheless, he urges the two countries, as well as all other states with leverage or sway over the coalition, to say enough is enough, and try to end the conflict via overt means, such as "public condemnation, suspended arms sales and diplomacy" — alleged "quiet words behind closed doors" are simply inadequate given the "completely barbaric" nature of the conflict, Kaye says.
© AP Photo / Hani Mohammed, File
In this Sept. 8, 2015 file photo, children play amid the rubble of a house destroyed by a Saudi-led airstrike in Sanaa, Yemen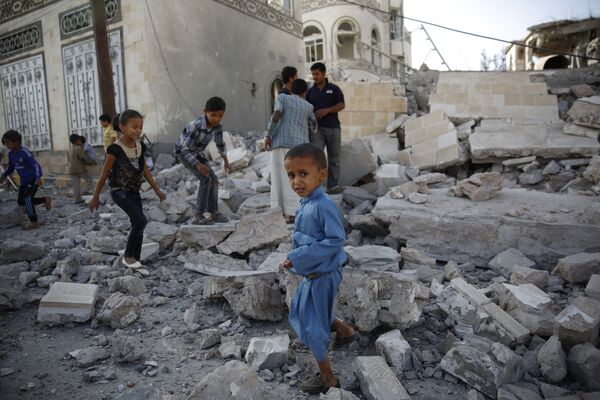 In this Sept. 8, 2015 file photo, children play amid the rubble of a house destroyed by a Saudi-led airstrike in Sanaa, Yemen
© AP Photo / Hani Mohammed, File
Despite the highly bleak diagnosis of the situation in Yemen he offers, Kaye praises the work of international humanitarian organizations in the region, which are "absolutely crucial" at present. These agencies are filling the gaps left by the disintegrating state structure in Yemen, to ensure women and children receive basic services.
However, Kaye concedes their work is a mere "sticking plaster, covering the cracks, providing the bare minimum of aid." The only way to prevent things worsening further, and ensure fewer children die on a daily basis, is for hostilities to "halt completely."
"A permanent ceasefire is an absolute necessity at this point. Proper peace negotiations must begin. That will only happen if the two sides say enough is enough, but they should recognize by this point that the war is going nowhere fast. Neither side looks like they're going to win any time soon, and they simply can't keep prolonging the conflict at the expense of innocent people," Kaye concluded.