According to the politician, relations with Russia can't be built with tanks. Holm views NATO military exercises as "provocation against Russia" and "saber-rattling." He is confident that it must be stopped.
"We believe this is wrong. These exercises are a saber rattling against Russia," Holm told Sputnik Germany.
Over the last few years, NATO has been increasing its military presence in Europe and conducting military activities near the Russian border. The United States and NATO have deployed additional forces and military equipment to Central and Eastern European nations, as well as the Baltic states, citing security concerns as the reason.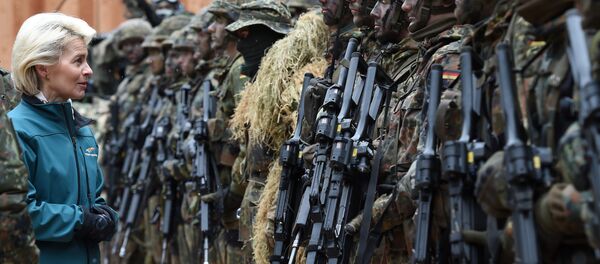 8 November 2016, 17:11 GMT
Last week, approximately 4,000 US soldiers, as well as hundreds of armored vehicles and battle tanks arrived in Germany as part of Operation Atlantic Resolve.
This program is aimed at ensuring Washington's European allies that the US is committed to protecting them from Moscow, although Russian officials have repeatedly said that the country does not pose a threat to any of its neighbors or any nation in the world.
The politician noted that Germany should worry about finding a balance and maintaining a dialogue on both sides of the Atlantic. Friendly relations with Russia are, in particular, important for Germany as the country benefits from an economic partnership with Russia, he argued.
"We want to expand exports, rather than threaten them," Holm said, criticizing the sanctions introduced by Western countries against Russia. "I spoke with entrepreneurs from Mecklenburg-Vorpommern. They complained of sanctions. They no longer have close contacts with Russia for exports. In addition, they fear that the Russians will switch to other trading partners."