WASHINGTON (Sputnik) — "Mr. Trump's team thinks they can work out 'fair trade' via smaller bilateral or narrow deals with many of the Pacific Rim companies," retired Brown University Assistant Economics Professor Barry Friedman said on Tuesday.
Friedman said it was likely the Trump administration would start on relatively small scale, seeking cooperative agreements with individual major companies, then move on to broader bilateral trade deals.
"Different industries have different problems for working out. One or two successes may get the momentum from the specific to the general deals," he said.
Trump was probably correct to calculate that abolishing the TPP agreement would not prevent the United States from making new trade deals with Asian nations, Friedman suggested.
"I don't think it's a big worry that China will 'swoop in' to gain agreements with these countries that will harm US exports — [but] there is plenty of competition against China to maintain their separate identities and to sell similar products outside the region," he explained.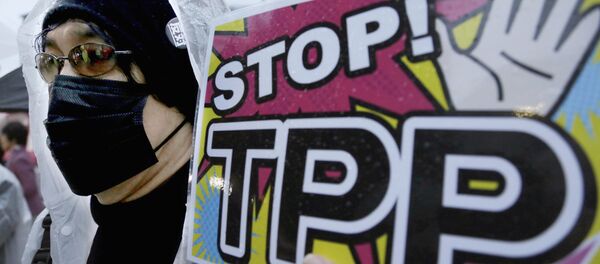 24 January 2017, 23:04 GMT
Like Trump, major Asian nations put their own national interests and industries first, Friedman added.
"International trade does not always work as it says in the textbooks… Even an advanced country like Japan, a major ally, impedes the flow of cheaper American agricultural products to protect their inefficient beef and agricultural producers," he said.
Officials in other countries use a number of open and subtle methods of bribery, against the interests of their own countries, Friedman observed.
"The TPP was supposed to remove some of these distortions and thereby help American companies with exports. [But] I understand it is a cumbersome agreement… and some critics didn't trust we would ever get proper enforcement," he pointed out.
Trump now needed to avoid the danger of trade wars with China or other major Asian nations, Woodrow Wilson Center Asia analyst Shihoko Goto warned.
"The priority now should be to avert a trade war as Washington seeks to further US business interests. Reckless tariff increases will not only hurt diplomatic relations, but could ultimately hurt US consumers by raising prices at home," Goto explained.
Trump needed to balance the continued benefits of free trade with the need to expand the base of US domestic manufacturing, Goto also noted.
"Americans should continue to benefit from greater choices and cheaper prices that global markets bring. US workers should have greater opportunities to high-paying jobs that require higher skills that… meet the demands of a knowledge-based economy," she added.
On Monday, Trump announced he was pulling the United States out of the Trans Pacific Partnership trade deal that his predecessor Barack Obama had negotiated with 11 other nations.