As a campaigner against fee transparency in the financial services sector for a decade, Gina Miller is used to negative, personal backlash — but, she says the abuse she received over the course of her Supreme Court battle "reached a whole different level."
"If you read the comments section on any article about me, it's disturbing. How could anyone think it was OK to post those things? I've complained to IPSO [Independent Press Standards Organisation], and some publications have taken down their comments sections, or mildly moderated them. It's amazing how powerful these people think I am. I apparently control the police, the media, the judiciary…the list goes on," Ms. Miller told Sputnik.
© AFP 2023 / Ben Stansall
Gina Miller, co-founder of investment fund SCM Private, poses for a photograph near the Houses of Parliament in central London on October 12, 2016.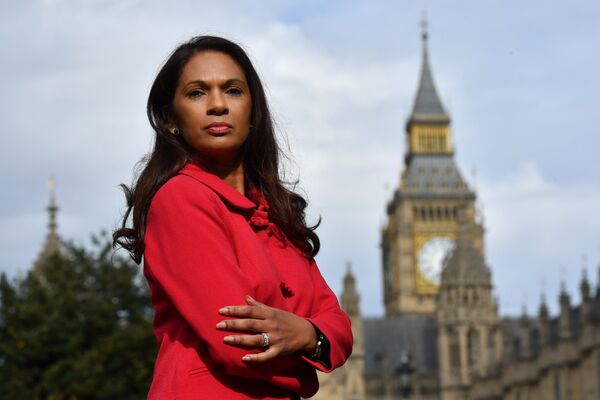 Gina Miller, co-founder of investment fund SCM Private, poses for a photograph near the Houses of Parliament in central London on October 12, 2016.
"The environment in which these comments proliferated was fueled by media reporting. Ever since the High Court made their decision, they pursued a campaign of pure, targeted character assassination, day in day out. They went to incredible lengths to discredit me, dispatching journalists to my father's village, phoning up school friends of mine all over the world, tracking down my ex-husband in Africa, the list goes on."
The abuse reached such levels, she asked a journalist employed by one of her most vicious media detractors why it was they were doing this, and why they were so interested in her — after all, they seemed to know more about her than many other public figures, and had "frequently fabricated" stories about her too.
"He responded that they couldn't figure out what my ulterior motive is, and I'm an easy target. Given Leveson [inquiry] and the entire surrounding debate about media standards was only a few years ago, you'd think they'd behave better. The mainstream media are creating so many problems. They're not doing their job — they've stopped reporting news, and become political propaganda rags. They are feeding a frenzy of division and hatred," she added.
What kept Ms. Miller going throughout her trial by media, however, was her elevation to lightning rod for individuals "suffering in the aftermath of the referendum result". With both Labour and the Conservative cabinets apparently committed to 'Brexit', she took it upon herself to become the public voice of the voiceless.
"I have a very strong sense of self, I'm steely, I have resources and I have a platform. Other people aren't as lucky as I am, though — and I felt I had to stand up and speak on the behalf of them. I've heard heartbreaking stories from EU nationals living in Britain about their experiences in the wake of the vote. It's a different Britain they're now living in," Ms. Miller concluded.
Some of the examples of post-Brexit bigotry offered by Ms. Miller are shocking. A German lady in Bristol and her son, a Paralympian who has won seven medals for the UK, were abused in the street because they were speaking in German. In another attack, a pregnant Polish woman and her boyfriend were attacked in Leicestershire for speaking Polish — she was thrown to the ground and kicked in the stomach, her attackers shouting that they didn't want "any more of you here". She lost her baby.
The Supreme Court has now decisively ruled Brexit must be considered by parliament, and MPs have begun to debate the government's Brexit bill. Whatever the outcome, Ms. Miller still secured a significant victory for all those in Britain deprived of a voice in the wake of the referendum result — although with authorities across the UK reporting spikes in hate crime since June 23, their battle may be far from over.