NEW DELHI (Sputnik) — Condolences poured in from the highest levels in India over the passing of Ambassador of the Russian Federation in New Delhi Alexander Kadakin.
Prime Minister Narendra Modi led the mourners by paying a personal tribute.
"He [Kadakin] was an admirable diplomat, a great friend of India and a fluent Hindi speaker who tirelessly contributed to stronger India-Russia ties."
In Amb Kadakin we lost a valued friend who nurtured #IndiaRussia relationship for many decades as distinguished Russian diplomat

— Vikas Swarup (@MEAIndia) 26 января 2017 г.
​Former Indian Foreign Secretary Kanwal Sibal said Mr. Kadakin's passing is a loss for India.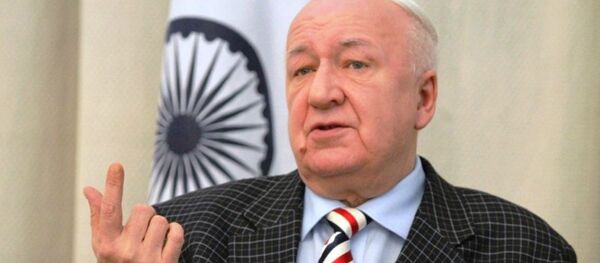 26 January 2017, 06:56 GMT
"He was a great friend of India. He empathized with India very deeply. He knew India very well having served here several times and was a very effective ambassador who had a deep knowledge of Indian culture. He spoke our languages."
"Kadakin was a great diplomatic representative of Russia. His loss will be mourned by all the friends of Russia and of ambassador Kadakin in this country. He contributed a lot to the strengthening of India-Russia ties. He actually assisted at so many summits between leaders. He had great experience in terms of dealing with the important and critical issues in our relationships very effectively," said Sibal who has served as India's envoy in Moscow.
Apart of two terms as Russian ambassador, Kadakin served as the Minister Counselor in Delhi from 1989 to 1992. He played a very critical role in strengthening the relations between the two countries, especially after the nuclear test of 1998. Kadakin was proficient in Hindi, which set him apart from most diplomats. He also spoke flawlessly in English, Urdu, French, and Romanian. Kadakin authored several books and translated many others from English and Hindi.
"He was a very cheerful person despite some health issues in the recent past," remembers Sibal, who knew ambassador Kadakin for more than 13 years and worked closely with him on several assignments. Mr. Kadakin was considered as the man behind streamlining the defense relationship between India and Russia especially during the time of differences over the Admiral Gorshkov (now INS Vikramaditya) deal.
"The other day, in Darjeeling, an idea came to me that the discovery of India is like scaling a Himalayan summit. The higher one ascends, the more the horizon broadens, and only at the top the breath-taking panorama unfolds in a short-lived drama of the morning."
"India has entered my life as a second homeland. It has become my karma-bhumi, because I worked here for so many years, my gnyana-bhumi [place for wisdom], because I have learned a lot here, my tapa-bhumi [asceticism], but most importantly — my prem- and maitri-bhumi [land where I found love and made friends], because I have given a half of my heart to India and because me personally and the new Russia, which I have the honor to represent as Ambassador for the second time, have millions of good friends here," he said in reference to his love for India.
Representatives of Belarus, Sri Lanka and several other countries in New Delhi expressed deep condolences over the passing of Ambassador Kadakin.
Kadakin had been the Russian ambassador to India since October 2009, following an earlier stint in the post from 1999-2004. He was born in present-day Moldova on July 22, 1949. He graduated from the Russian Foreign Ministry's Moscow State Institute of International Relations in 1972, after which he launched a diplomatic career at the Soviet Embassy in India.