MEXICO CITY (Sputnik) – Mexican President Enrique Pena Nieto stressed that his country will not pay for a wall along the border with the United States, following US President Donald Trump's announcement of his immediate construction plan.
"Mexico does not believe in walls… I've said it before, Mexico will not pay for any wall," Pena Nieto emphasized in a televised address on Wednesday.
Earlier in the day, Trump issued an executive order aimed at speeding up the construction of the wall along the US-Mexico border, delivering on his signature campaign pledge.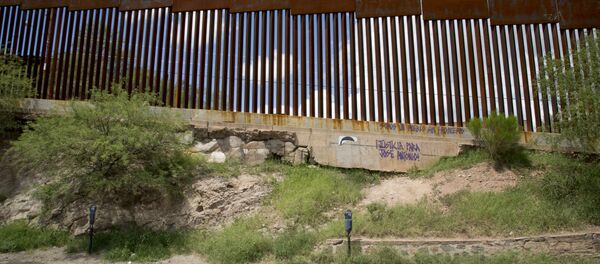 25 January 2017, 18:45 GMT
Trump said in a press conference on Wednesday that the wall will stop criminals from pouring into the United States and will disrupt drug cartels. Safe borders and economic cooperation, Trump added, will enhance US-Mexican relations to a degree not seen before.
Top Mexican politicians and former officials largely regarded Trump's announcement as an insult to the Mexican government and urged president Nieto to reconsider his travel plans to the United States.
Nieto is scheduled to hold a meeting with Trump in Washington on January 31.