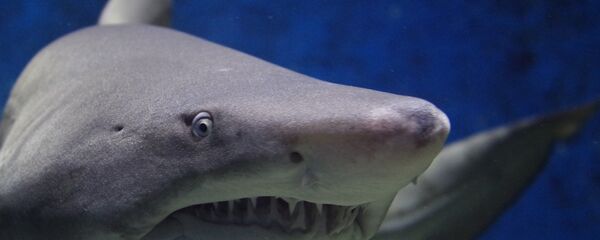 30 August 2016, 12:16 GMT
Eden, a 10-year-old boy, was riding the waves while his dad, Chris Hasson, photographed his son near Australia's Port Stephens. The young surfer suddenly narrowly-missed slamming into what appears to be a great white shark. Interestingly, neither the boy nor his dad realized what happened until Eden returned to the shore.
"Just as he is taking off I see something out of the corner of my eye," reads Chris Hasson's Facebook post. "I keep shooting and after he finishes and starts paddling out I zoom in on the second photo and see he's just done a backhand snap on an 8 foot Great White Sharks head."
"[Eden] saw a shape in the wave and thought it was seaweed and felt something as he went over the top," Hasson later said in an interview. "He got his leg rope caught on something but he thought nothing of it until he saw the photo."
Eden, not realizing what had happened, casually returned to the beach.
"I was lucky I didn't fall off," he said later. The incident did not prevent him from paddling out again the next day.
Shark researcher Andrew Chin of James Cook University suggested that the predator was probably alarmed by the surfboard. Hence the upward position, as the fish rolled to evade the intruder.
"This photo is going straight to the pool room," Hasson wrote on Facebook. "Not everyday you get a photo surfing over a big white."
That's the kind of photobomb you love to see, because you are still alive to see it.