LUKHOVITSY (Moscow Region), (Sputnik) — Russian Aircraft Corporation MiG, which is the part of the United Aircraft Corporation (UAC), could open service centers for maintenance of MiG-35 multirole fighters on the territory of potential foreign customers of the aircraft, Sergei Korotkov, the general designer and the vice-president of the UAC for innovations, said Friday.
"After the end of the warranty period of maintenance, we are ready to create a service center for maintenance of MiG-35 on soil of a foreign client," Korotkov said at the unveiling of the aircraft.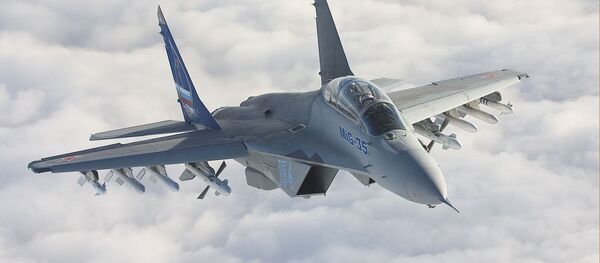 27 January 2017, 09:57 GMT
The MiG-35 is unified with MiG-29 aircraft used by 56 countries across the world, he added.
The Russian MiG-35 (NATO reporting name Fulcrum-F) is a 4++ generation jet, which has been created with the use of technical decisions used in the MiG-29M/M2 and MiG-29K/KUB aircraft and new advanced technologies. According to President of the UAC Boris Slyusar, the serial purchases of the advanced aircraft for the needs of Russia's Aerospace Forces will start in 2019 within the framework of the state arms procurement program.