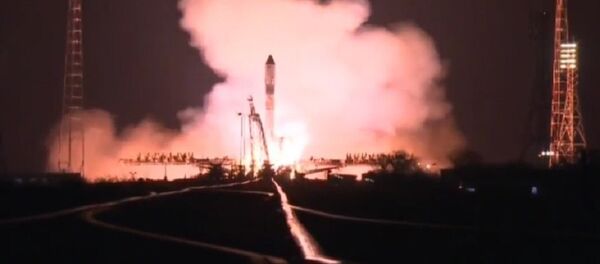 28 December 2016, 22:25 GMT
MOSCOW (Sputnik)
–
The Progress MS-03 cargo spacecraft, which has served out its time at the International Space Station (ISS), will be undocked and drowned in the Pacific Ocean on January 31, representative of the Russian Mission Control Center (MCC) told Sputnik on Friday.
"According to the calculations of the ballistic and navigation department of the Mission Control Centre, the physical separation of the spacecraft and the ISS is scheduled for 5:23 p.m. Moscow time [14:23 GMT]. The re-entry of the Progress is expected at 9:10 p.m. Moscow time. According to the calculations, the parts of the spacecraft that do not burn in the atmosphere will drown at approximately 10:24 p.m. in the designated innavigable area of the Pacific Ocean," the representative of the MCC said.
The Progress MS-03 cargo spacecraft has been part of the ISS since July 19, 2016. On December 1, the Progress MS-04 space freighter burned up in the atmosphere after a faulty launch on board a Soyuz-U carrier rocket.
The launch of the Progress MS-05 cargo spaceship is scheduled for February 21 from the Baikonur Cosmodrome.
Never miss a story again — sign up to our Telegram channel and we'll keep you up to speed!