After participating in the swearing-in of new Defense Secretary Gen. James "Mad Dog" Mattis, Trump announced the signing of two executive actions, the first of which Trump thinks the 115th Congress "will like very much."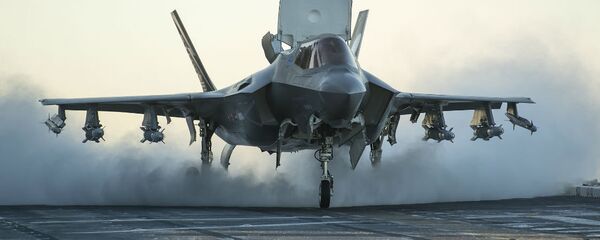 20 January 2017, 00:28 GMT
Trump has issued a series of promises to bolster the US military. But as it stands, the US already outpaces the rest of the world in military spending by a long-shot. Trump has vowed to build up the nuclear arsenal and increase the number of ships in the US Navy. He has also been busy with the F-35 program, which he said will see cost reductions conducted "beautifully."
At the Pentagon, Trump also signed a separate executive order that will enact "new vetting measures to keep radical Islamic Terrorists out of the United States of America"
The full details of the executive order rebuilding the military have not been disclosed. 
In the Pentagon's Hall of Heroes with a massive medal of honor behind him, Trump declared the "executive action" will contribute to "a great rebuilding of the armed services," adding that it will include "new planes, new ships, new resources, and new tools for our men and women in uniform."