Rosenberg, known by Twitter users for his regular tweets featuring short videos reviewing Russian media analysis of world events, has presented an intriguing explanation of why he thinks having Donald Trump as the US President is a 'win win win' situation for Russia.
Standing on the rink at a hockey arena, Rosenberg explained that "in the grand arena of geopolitics, Russia has been raising its game. It has outmaneuvered the West over Syria, it has played some EU countries against other ones very successfully, and with Donald Trump in the White House, it's win, win, win for Moscow."
I've gone down to an ice hockey stadium to explain how Donald Trump in the White House is 'win win win' for Moscow. pic.twitter.com/2lF10oSHas

— Steve Rosenberg (@BBCSteveR) 27 января 2017 г.
For starters, the journalist noted, "if Trump plays things as he said he would, skating over America's differences with Russia and improving relations, that could speed up an end to sanctions against Moscow, and bring Russia in from the cold – goal!"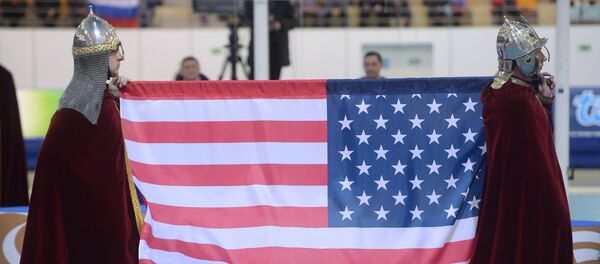 29 January 2017, 14:54 GMT
"On the other hand," he continued, "if there's a faceoff, [and] Trump and Putin clash, Russia can stick to its old tactic of demonizing America as an external enemy to deflect attention from problems at home, and Russia wins again."
"Meanwhile," Rosenberg added, "any turmoil in America over Trump can be used by the Russian state media to present life here, to the Russian public, as more stable," another win.
At the same time, the journalist emphasized that "having said that, the Kremlin will need to keep one eye on defense," (in hockey parlance). "You see, Donald Trump, and Brexit too, benefited from a wave of anti-establishment sentiment that's sweeping the Western world, and if that were to come to Russia – well who's the establishment here? It's Vladimir Putin."
The BBC journalist's punchy analysis was picked up by Russia's RIA Novosti news agency, prompting a vibrant response from readers about this so-called Russian 'win, win, win'.

28 January 2017, 23:24 GMT
For one thing, users said, 'Moscow' didn't have to 'trick' anyone. Rather some Western politicians "got carried away" with their own games and ending up "outmaneuvering themselves."
Responding to Rosenberg's comment on Syria, one user pointed out that Russia has only been "doing its job in the fight against terrorism, unlike [Western] politicians! It's been Russia delivering humanitarian aid and helping to liberate Aleppo, and not your vaunted coalition forces, including the UK," the user added.
Others joked about Rosenberg's basic assumption that recent global events have all been part of an elaborate Russian plot. "What did he think? Of course we will emerge victorious over everyone!" one commenter jested.
Yet other users marked their concern about what benefit lifting the sanctions would actually have for Russia or its economy. "I can't understand something," one comment reads. "If sanctions are lifted, what kind of victory will this be? It's been thanks to sanctions that we have started getting on our feet…And now we're thinking about lifting sanctions? What, do they want to drive us back into bondage to the West?"
Others still pointed to main flaw in Rosenberg's logic – that Russia was engaged in a conflict against the West in the first place. "The talk of Moscow's 'triple victory' proves only one thing: that the West still believes that Russia is at war with anyone other than Daesh," one user noted. "In the same way [Ukrainian President Petro] Poroshenko is fighting with the residents of his own country in the Donbass, while desperately trying to find Russian troops there. These guys are paranoid," he added.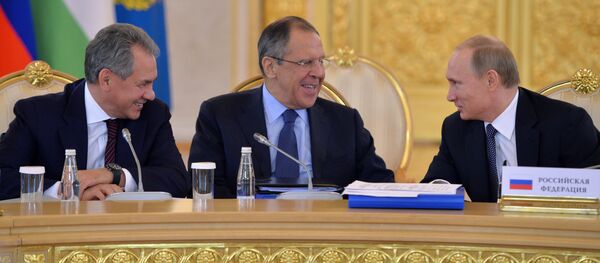 29 December 2016, 10:32 GMT
Finally, the comments don't mention it, but there is one other important point worth adding, regarding Rosenberg's final point. Vladimir Putin, unlike the establishment politicians in many Western countries, has an approval rating that hovers above 80%. What's more, he has long been seen in many countries, including Russia itself of course, as a key face of the pro-sovereignty, anti-globalist movement.
With most Russians mindful of the hellish experience of the 1990s after the Soviet collapse, it would be sheer madness to speculate that they would want to give up the relative stability under the current 'establishment', in exchange for a return to the bad old days, by democratic means or otherwise.