On Sunday morning, Senate Minority Leader Chuck Schumer fought back tears as he spoke against the travel ban. He was quickly called on his fake tears by Trump.
"I noticed Chuck Schumer yesterday with fake tears," Trump said on Monday. "I'm going to ask him who is his acting coach. Because I know him very well. I don't see him as a crier. If he is, he's a different man."
Trump said that there is "about a five percent" chance that Schumer's tears were genuine, and it would be hard to argue with his statement.
Of the seven nations in which travel to the US is currently frozen, the Obama administration bombed five: Syria, Iraq, Yemen, Libya and Somalia. 
As Information Liberation asks, "did Chuck Schumer shed a tear for the 62 Syrian troops killed and 100 more wounded that the Obama administration 'accidentally bombed' in 2016?"
It is estimated that in the final few weeks of Obama's Presidency alone, there were hundreds of civilian deaths in Iraq and Syria during battles in Mosul and Raqqa.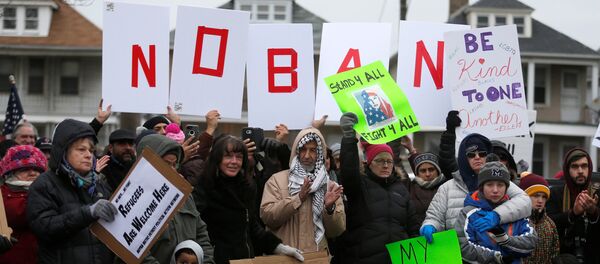 30 January 2017, 17:53 GMT
Based on an assessment by researchers at AirWars, the recent strikes have likely claimed the lives of between 294-350 civilians in Mosul alone. 
In Somalia, a country with which the US is not at war, airstrikes have claimed many civilian fatalities.
"Other than the higher-than-normal death toll, this mass killing is an incredibly common event under the presidency of the 2009 Nobel Peace laureate, who has so far bombed seven predominantly Muslim countries," The Intercept wrote of a March 2016 airstrike in Somalia that killed 150.
Did angry Democrats flood the streets as lawmakers wept for the bombing of Doctors Without Borders hospitals in Yemen by the Saudi coalition that has received billions of dollars in weapons from the Obama administration?
Where were Schumer's tears for those lives, when they were not simply inconvenienced, but ended?