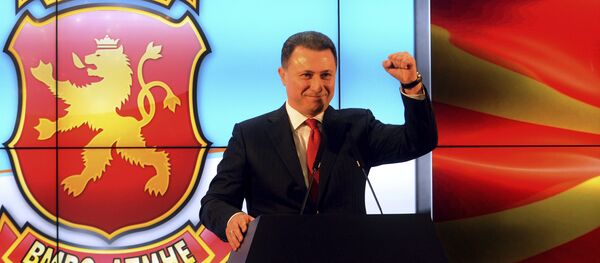 9 January 2017, 13:37 GMT
BELGRADE (Sputnik)
–
Earlier in January, Macedonian President George Ivanov gave the conservative VMRO-DPMNE a right to form the government within the statutory period of 20 days, but the party needed to form a coalition with its traditional Albanians partners. According to the national law, now mandate would be given to the second-largest party.
"We could not decide on any of the existing options, no arguments to make a final decision has been put forward so far. The DUI started comprehensive consultations with members of the party, fellow international actors. We have a substantial discussion on all existing proposals," Osmani said, as quoted by the MKD news outlet.
According to media reports, the parties failed to agree on conditions set by DUI leader Ali Ahmeti to his counterpart from the VMRO-DPMNE, Nikola Gruevski, a former Macedonian prime minister, who resigned earlier in January due to the ongoing wiretapping scandal. The DUI leader demanded to make the Albanian language a second official language not only in the areas with the high Albanian ethnic concentration, but throughout the whole country. Ahmeti also urged Gruevski to allow the investigation into the wiretapping scandal.
The political crisis in Macedonia began in 2015 as the opposition accused the ruling conservatives of intercepting telephone conversations of some 20,000 people, including police officers, judges, journalists and diplomats. It resulted in the agreement reached last year between the most influential parties in Macedonia, under which Gruevski had to resign and the parliament was dissolved.
The Macedonians elected a new parliament in the early election in December 2016, after several cancellations. In the vote, the conservative VMRO-DPMNE party and the opposition party SDSM won 51 and 49 seats respectively. However, each party had to gather support of minor parties, such as the DUI, to form a coalition government, as there are 120 seats in the country's legislative body.
Never miss a story again — sign up to our Telegram channel and we'll keep you up to speed!