January marked the arrival of an armored brigade in Zagan, Poland, that had been stationed at Fort Carson, Colorado. The US is cooperating with Polish security forces to enhance military preparedness with ground troops, tanks, and armored personnel carriers. The drills began Monday.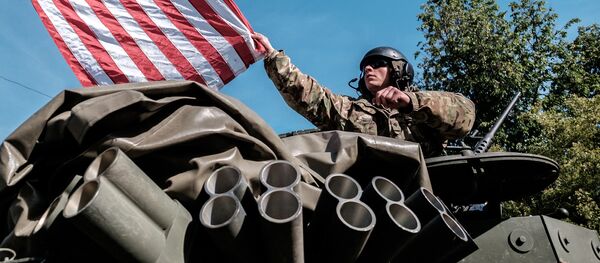 30 January 2017, 11:55 GMT
Polish President Andrzej Duda was delighted at the prospect of better ties with Washington and the regional security it might provide. "God bless Poland, God bless America, God bless American soldiers," Duda said, while observing the training operations. Paul Jones, US Ambassador to Warsaw, was also in attendance. Both officials said the American troops would improve regional security while serving as a deterrence presence on NATO's eastern flank.
The advanced US military units are some of America's finest, Jones declared. US troops are poised for deployment in Baltic states and Romania, as well. The US has continually trumpeted potential Russian military aggression, hence NATO's sprint to bolster forces in the region. The Third Brigade combat team's station in Poland is part of an initiative to establish how quickly armed forces can mobilize "from port to field."
NATO has also stationed German infantry in Lithuania.
​"Endless war-games and rotational deployments essentially amount to permanent military presence," Sergei Ermakov, analyst at the Russian Institute for Strategic Studies, said. "What we have seen is only the tip of the iceberg," he added.  NATO has pushed to station four infantry battalions in member states sharing borders with Russia by April 2017.
Congress has appropriated $1.7 billion to the Department of Defense for the European Reassurance Initiative for fiscal year 2017. In 2016, the DoD requested just $789.3 million, according to the Under Secretary of Defense (Comptroller).