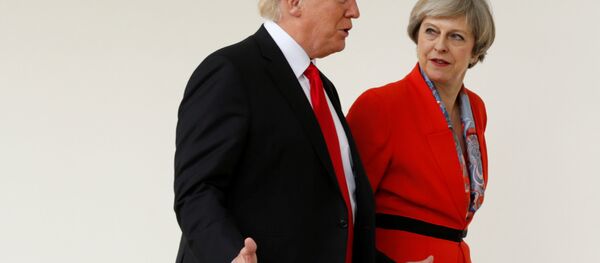 30 January 2017, 17:37 GMT
LONDON (Sputnik) — On Friday,
May held a meeting with Trump
, during which she invited US president on behalf of Her Majesty the Queen to visit Britain later this year.
Later in the day, Trump signed an executive order "Protecting The Nation From Foreign Terrorist Entry Into The United States," suspending entry to the country for all nationals of Iran, Iraq, Libya, Somalia, Sudan, Syria and Yemen for 90 days, banning all refugees from entry for 120 days and blocking all Syrian refugees from entering the United States for a yet undetermined period of time.
The decree triggered sharp criticism not only in the United States but throughout the world, including in Britain.
Calls for Cancelling Trump's Visit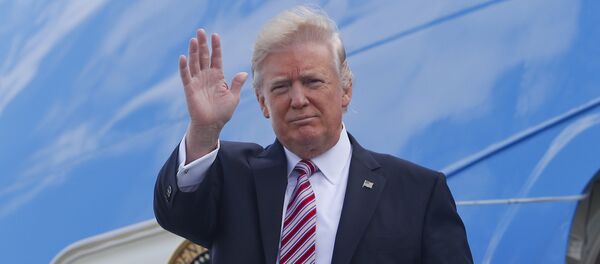 30 January 2017, 10:47 GMT
Following the decree,
an online petition was published
at the website of the UK Parliament, demanding Trump to be barred from making a state visit to Britain. So far, more than 1.6 million people have signed the petition.
On Sunday, Jeremy Corbyn, the leader of the UK Labour Party, said Trump did not deserve to be welcomed in the United Kingdom because of his anti-immigration and anti-refugee policy, as well as for his lack of support for the women's rights, adding that May should properly respond to Trump's decree.
At the same time leader of the Liberal Democrats Tim Farron wrote on Twitter that May was ready to welcome Trump in any case as she was "desperate for a Brexit trade deal."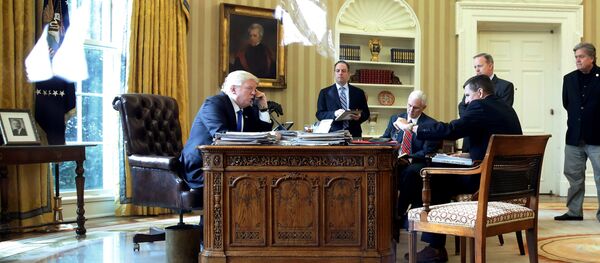 29 January 2017, 02:14 GMT
On Monday, Scotland's First Minister Nicola Sturgeon also called on May to cancel the scheduled visit of the US president, saying that the travel ban, which he had imposed on Friday, was contradicting fundamental democratic values.
Later on Monday, thousands of UK residents took to the streets of the British cities, expressing their discontent with Trump's travel ban on citizens of seven Muslim-majority countries. According to the Facebook page devoted to rally in London, over 28,000 people took part in the protests. Anti-Trump demonstrations also took place in Manchester, Glasgow, Cardiff, Newcastle, Oxford and 30 other towns and cities.
Queen at Crossroads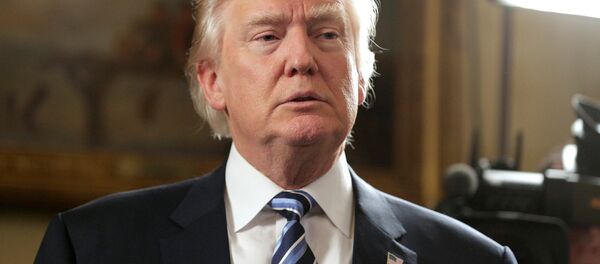 28 January 2017, 06:55 GMT
Despite calls for invitation cancellation, May confirmed on Monday that London stood behind the invitation, while disagreeing with Trump's policy.
On the same day, media reported that UK prime minister knew in advance about the travel ban. According to Channel 4, Trump informed May about the decree during her visit to Washington, though the UK leader decided to ignore it for the sake of preserving good relations with the United States.
On Tuesday, former head of the UK Foreign Office Peter Ricketts said that May had put the Queen in a "very difficult position," calling on the prime minister to downgrade Trump's invitation from a state visit to spare the monarch any embarrassment.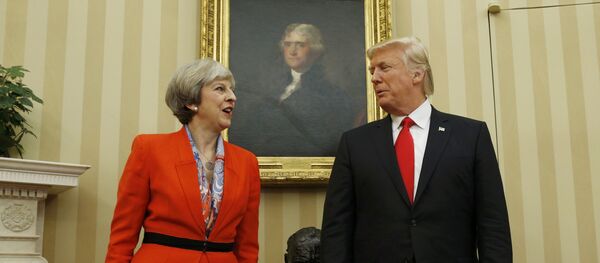 31 January 2017, 16:19 GMT
"It would have been far wiser to wait to see what sort of president he [Trump] would turn out to be before advising the Queen to invite him. Now the Queen is put in a very difficult position," Ricketts said in an open letter published by The Times.
He also noted that no US president had ever received Queen's invitation in the first year of term, so the question was whether Trump deserved such an exceptional honor.