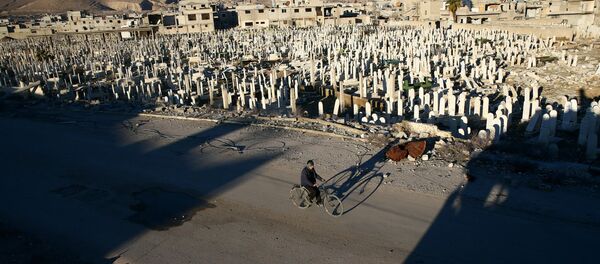 30 January 2017, 22:30 GMT
"Mr. Lavrov familiarized us with the draft constitution for Syria prepared by Russia. He said that the text was not final and that we could feel free to make any amends we deemed fit," Halit Isa told
Sputnik Arabic
.
Describing the meeting as "positive," Isa said that Russia was inviting all Syrian opposition forces and representatives of "democratic autonomies" to the negotiating table.
"The Russian-prepared draft proposes deleting the word 'Arab' from the country's official name, which reads as the 'Syrian Arab Republic,'  because there are many ethnic groups living in Syria, including Kurds, Armenians, Assyrians, Circassians and others."
Halit İsa also praised the Russian draft for underscoring Syria's status as a secular state as compared to the old constitution, which contained articles based on Sharia law.
"We have representatives of various confessions living in Syria," he noted.
"During the meeting we presented our own draft to Russian officials and opposition representatives who said they were ready to study it. We also need to talk with opposition members who were not present in Moscow and then send a delegation to the Geneva talks."
Halit İsa added that Russian representatives had agreed that without PYD representatives present at next month's meeting in Geneva the sides would fail to reach agreement because "Kurds are a leading force in this process and must be present in Geneva."
In an interview with Sputnik Arabic, Zuhat Kobane, the man responsible for the PYD's relations with Europe, described the constitutional draft proposd by Russia as an important and very positive step for the future Syrian state.
"We welcome this step, just like we do any other initiative aimed at bringing about a political solution to the Syrian crisis," he said, adding that if other influential forces in Syria refuse to join in this would seriously undermine efforts to end the crisis.
"Aware of this, some regional powers have already put forward preliminary conditions for a political settlement, which we believe will lead us nowehere. This is why all previous rounds of the Geneva talks fell through. We believe that all Syrian political forces should join hands building a united, democratic Syrian federation, not on behalf of some other countries, but as representatives of the Syrian people," he emphasized.
In an interview with Sputnik Arabic, Alyan Masaad, the chief delegate of the Group of Internal Syrian Opposition (Hmeymim), spoke about Friday's consultations in Moscow.
"Minister Lavrov spoke at length about the recent talks in Astana and about the international situation and urged us to take part in the Geneva talks.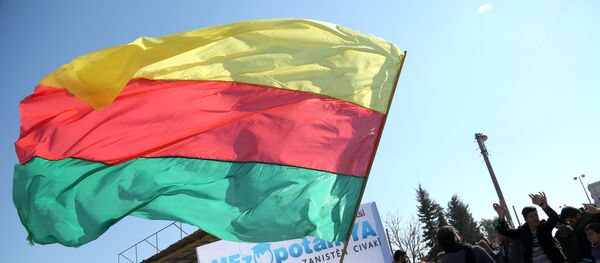 27 January 2017, 09:22 GMT
He said he wanted all sides to come to the negotiating table and carefully listen to each other," he said.
As for [the Russian draft], "it is less than a draft, these are just the broad outlines given us by Deputy Foreign Minister Mikhail Bogdanov.  It was published a year ago and was much discussed in Vienna."
"I believe it is too secular. The problem is that some of its provisions go beyond the constitutional format. It is still acceptable to me and my delegation, especially its part about decentralization. You could call this self-rule or federalization and we support it, especially when it comes to the Kurds," Masaad said.
He added that he was "categorically against any political self-rule" though, saying said that it was fraught with separatism.
"In a politically decentralized country a regional council could change its political affiliation, hold a referendum and break away," he warned.
Alyan Masaad also voiced disagreement with parts of the draft that are at variance with provisions "written and coordinated with the domestic opposition."
"The proposed draft says that Syria will be a mix of a presidential and parliamentary republic, while our blueprint provides for a parliamentary republic where the president will be vested with considerable powers."
 "I'm not rejecting [the proposed draft] and not saying that it is bad, but it is not good for the Syria we have today. The country is fractured and drained by this war. It needs to pull itself together that's why it needs a strong executive branch," Alyan Masaad emphasized.
At the January 23-24 Syrian peace talks in Astana, Kazakhstan, Russia proposed a draft to serve as a "guide" for the Syrian constitution, outlining that it will be the Syrians who draft the final version, taking into account proposals made by both the government and the opposition.

Never miss a story again — sign up to our Telegram channel and we'll keep you up to speed!