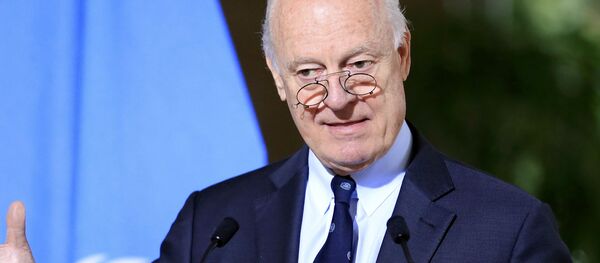 27 January 2017, 10:53 GMT
MOSCOW (Sputnik) — On Monday, Vitaly Naumkin, Russia's adviser to UN Special Envoy for Syria Staffan de Mistura, said that he did not rule out a possibility that the Arab countries, which were impacted by the Syrian crisis, could join the three guarantor states of the Syrian peace process, noting that Egypt could play a huge role in the start of the peace settlement.
"Egypt being a member of the International Contact Group on Syria, looks forward to the resumption of the Syrian Peace talks under the UN auspices in Geneva and sees it very natural to participate in facilitating these talks," Zeid said.
He underlined that Egypt, as a regional player, followed closely the January 23-24 talks in Astana brokered by Russia, Iran and Turkey and would continue its efforts to monitor and enforce the ceasefire in Syria.
"Egypt, as an Arab regional country, followed up closely the talks in Asetsna. We support every efforts that would enforce and stabilize the cease fire in Syria," Ahmed Abu Zeid told Sputnik.
Zeid also stressed that Egypt called for a fully inclusive intra-Syrian process at the future rounds of negotiations. His statement came as the political opposition did not partake in the Astana talks, which were and brought together the representatives of the Syrian government and the armed opposition groups.
"We believe that any upcoming talks between the Syrians should be comprehensive  and inclusive of all Syrian factions that are not involved in any terrorist acts and are eager to reach political settlement to the crises in Syria," he said.
"The upcoming talks in Geneva is an important milestone to put an end to the humanitarian suffering in Syria and bring Syria back as a strategic pillar to Arab national security," Zeid added.
The next round of UN-mediated talks in Geneva is expected to take place on February 20. On Tuesday, de Mistura said he would form the opposition delegation himself, should the opposition fail to do so by February 8.