Media investigations suggest the HJS is paid a total of US$12,500 per month to spread anti-Chinese propaganda, via the conduit of public figures such as former British Foreign Secretary Malcolm Rifkind.
Rifkind confirmed he had been approached by HJS in August 2016, and asked to put his name to an article titled, "How China could switch off Britain's lights in a crisis," which criticized Hinkley C, a UK-Chinese nuclear power station.
© Photo : HPC Construction pic
Hinkley Point C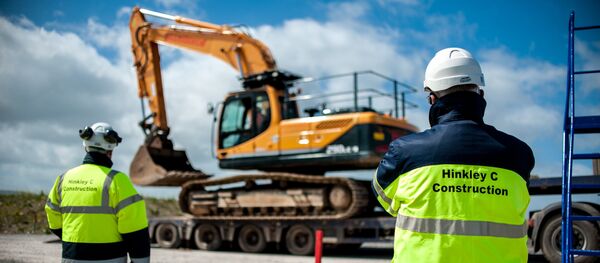 Hinkley Point C
© Photo : HPC Construction pic
The piece claimed there may be a risk of the station having cyber-backdoors built into it by the Chinese, which could present a risk to UK national security. However, Mr. Rifkind claimed he was unaware of the funding HJS received from the Japanese embassy, and said the think tank should have informed him.
Reports indicate HJS originally approached the Japanese embassy alongside a public relations outfit named Media Intelligence Partners, which is run by former Conservative spin doctor Nick Wood. HJS styles itself as "a cross-partisan, British-based think tank with a strong British and European commitment towards freedom, liberty, constitutional democracy and human rights." It is run by failed Conservative parliamentary candidate Alan Mendoza, and leading neoconservative Douglas Murray serves as associate director.
© AP Photo / Kirsty Wigglesworth
Then Britain's Prime Minister David Cameron, right, drinks a pint of beer with Chinese President Xi Jinping, at The Plough pub in Casden, England on October 22, 2015.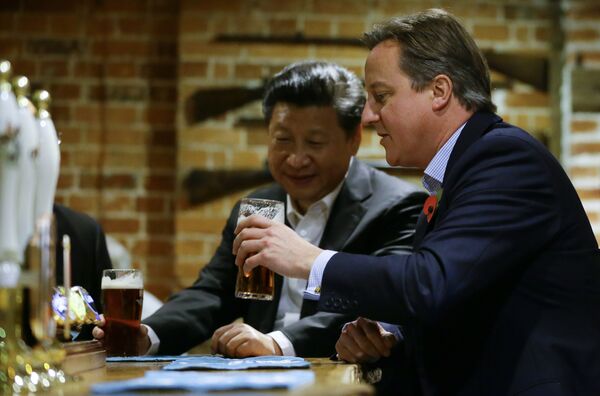 Then Britain's Prime Minister David Cameron, right, drinks a pint of beer with Chinese President Xi Jinping, at The Plough pub in Casden, England on October 22, 2015.
© AP Photo / Kirsty Wigglesworth
A provisional proposal, leaked to the media, envisaged the think tank and PR firm working in conjunction to develop a communications strategy for the embassy that would allow Japan's concerns about China to be placed "on the radar of mainstream UK journalists and politicians" and engage "an interested cadre of high-level politicians" in order to focus public attentions on the "threat" to Western interests posed by Chinese "expansionism."
David Miller, Professor of Sociology at the University of Bath, has followed the activities of the HJS for a number of years.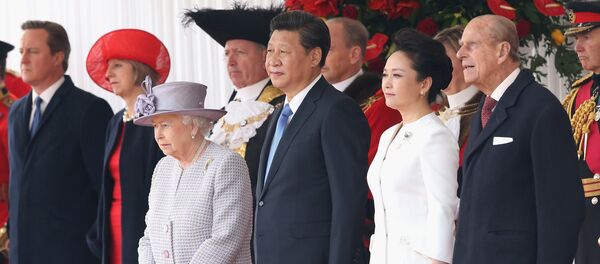 In 2015, a research team he conducted an investigation into the Society's role in spreading Islamophobic propaganda on behalf of "hardline pro-Israel/Zionist and Islamophobic" donors. While the HJS refuses to publicize its list of donors (a stance somewhat at odds with its stated commitment to  freedom and democracy), Miller said its client list includes foreign governments, large corporations and conservative foundations.
"The HJS exists to promote certain interests, and does so for money when a particular set of interests converges with their own motivations and objectives. The notion that it's remotely independent is completely preposterous — although, the HJS is not alone in this regard. Very few think tanks are independent, most serve purely to advance the particular ideological concerns of their donors. They exist to replace independent research published by universities, and lend a veil of academic, independent legitimacy to government policy," Professor Miller told Sputnik.
The HJS has close connections with the modern Conservative party and was founded by Michael Gove MP, former Education and Justice Secretary. Given the desperation of many Conservative politicians, in particular former Chancellor George Osborne, to cosy up to China in recent years, some may find it odd that the HJS is helping to promote anti-Chinese sentiment.
However, Professor Miller explained that this divergence represented an ongoing conflict within British conservatism.
"There are certain elements of the Tories who are very much in favor of pursuing close economic ties with the Chinese, and those who have a more traditional post-WW2 conception of the world order, in which Japan is a very important ally. The latter group are unhappy about the former's ongoing efforts to court Chinese capital, and the HJS definitely fall in this bracket. Douglas Murray has been outspoken against rising Chinese influence in world affairs," Professor Miller added.
As for whether this set of revelations will rein in the HJS, Professor Miller was pessimistic — but he was optimistic about the chances of UK lobbying reform in future, which would seriously truncate its activities.
"The whole raison d'etre of the Society is to function at an elite level, to serve as an access broker for powerful interests to powerful people. This is just an instance in which they've been caught out. They'll carry on as they've been carrying on behind the scenes until there's an increase in lobbying transparency and oversight, which there has been significant progress on in recent years. If the HJS was registered in the US, they would have to publicize their sources of funding under the foreign Agents Registration Act — the UK should have its own, comparable version of that law. Once that happens, they'll recoil into darkness," Miller concluded.