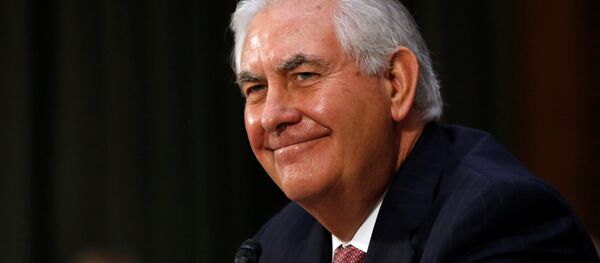 12 January 2017, 18:42 GMT
WASHINGTON (Sputnik) — On Wednesday, the US Senate in a final vote
confirmed
Tillerson, the former CEO of Exxon Mobil, as President Donald Trump's secretary of state by a 56 to 43 vote, with Republicans backing the nominee and most Democrats opposing him.
"President Trump will need the vote of every Senate Republican on several crucial bills and appointments," Ohio Northern University Assistant Professor of History Robert Waters said on Wednesday. "There is no reason for him [Tillerson] to antagonize [Senators] Rubio, McCain, and Graham about an issue that is not pressing."
Trump and Tillerson knew that Republican hawks who have been highly critical of the new president might join forces with Democratic political opponents to try and prevent him in ending the sanctions on Russia, Waters explained.
"If they [Trump and Tillerson] try to lift sanctions on Russia, they will face bipartisan push back in Congress," Waters cautioned.
Waters expressed confidence that Tillerson was determined to seek improved relations between the nuclear superpowers, but expected that the new secretary of state was likely to have to deal with starting the renegotiation of trade treaties first.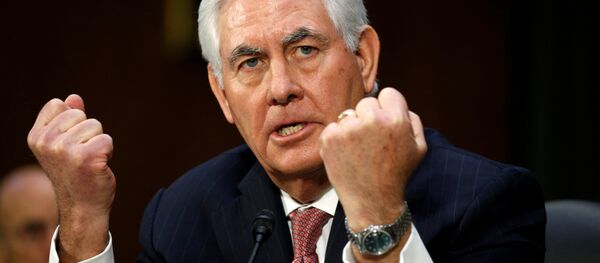 15 January 2017, 08:22 GMT
"Right now relations with Russia appear to be on one of the very back burners. Tillerson's focus will be on negotiating trade treaties and improving relations with Mexico while making them pay for the wall — it will take impressive diplomatic skills!" Waters said.
Changing US Russian policy would also have to wait because of the allegations of Russian interference in the 2016 presidential election and the rows over earlier hacks into US government computers, Waters continued.
"Waiting will give tempers a chance to cool and may lead to cooperation in areas of potentially common interest like the fight against the ISIS [the Islamic State], which can build cooperation if not trust," Waters explained.
Independent Institute Center on Peace and Liberty Director Ivan Eland told Sputnik that the new secretary of state would seek to lift all US-led economic sanctions on Russia.
"His boss [Trump] wants it and so does Tillerson. They will be inclined to lift sanctions, but some of the European nations may balk," Eland claimed.
Eland also suggested that Trump, Tillerson and the Europeans might feel the need to try and avert the escalating conflict in Ukraine before they returned to the sanctions issue.
"I think they may need to deal with the escalating crisis in Ukraine first," Eland suggested.
In January, during Senate confirmation hearings, Tillerson was criticized for his past business dealings with the Russian government. However, the former oilman told lawmakers the United States should maintain the status quo on anti-Russian sanctions.
Tillerson also refused to recognize Russia's right to Crimea and supported the 2012 Magnitsky Act targeting a number of Russian officials with sanctions. Tillerson said Russia's actions in Syria were unacceptable, refusing, however, to call Putin's policy "a war crime."
Russian officials and spokespersons have repeatedly denied meddling in the US election, describing such allegations as absurd attempts to distract from important domestic issues.