"This barbarous raid can not be justified. Kiev's actions violate not only the 1949 Geneva Convention on the protection of civil population during wartime but all moral norms as well," Zakharova said. "Only vandals can bomb a city while it's sleeping, destroying entirely blameless people. We have no other definition for the people who conducted this night sortie."
Zakharova said that in the early hours of February, 3 Donetsk was subjected to massed fire from Ukrainian Armed Forces. Residential areas suffered dozens of strikes from large-caliber armaments, including "Uragan" and "Grad" systems.
Ukrainian Armed Forces are using weapons systems banned under the terms of Minsk peace deal in Donetsk, Zakharova said.
"Conducting strikes using heavy artillery — is that how Kiev proves the country's unity?" Zakharova said. "Today, Kiev not only does not express any concern about the new development in the crisis but also unashamedly flaunts its actions in Donbass, using the OSCE platform for that."
Zakharova stressed that this military campaign not only breaks all 'moral norms' but is also a violation of Kiev's international obligations.
"This is the shame of modern Europe!" Zakharova said reminding how Ukraine has been enjoying the protection of Western partners for years. 
She pointed out that while the whole world followed the Twitter account allegedly belonging to a little girl from Aleppo, it now ignores Kiev's actions in Donetsk.
Zakharova then called on OSCE to conduct close and impartial observation in Donbass where journalists had been shelled from the Ukrainian side: "We see this incident as a gross violation of international humanitarian law."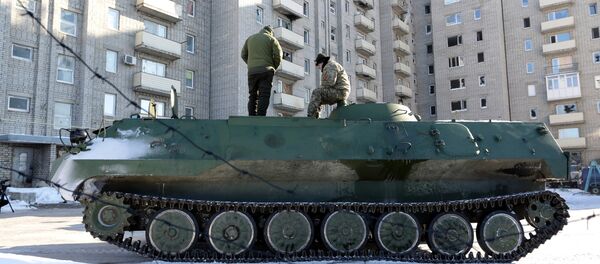 2 February 2017, 18:09 GMT
On February 3, Kiev armed forces
deliberately shelled
residential areas of Donetsk, the region's largest city, with the use of multiple rocket launchers.
DPR Minister of Emergencies Alexei Kostrubitsky told journalists that at least two people were killed and over a dozen were injured when Kiev forces attacked Donetsk from the "Uragan" self-propelled multiple rocket launcher system. OSCE confirmed that there were casualties.
The situation has escalated over the past few days in the Donetsk region, in particular near the town of Avdiivka, with clashes happening between Kiev forces and local militia. The conflicting parties have both accused each other of initiating the violence and have both suffered casualties.