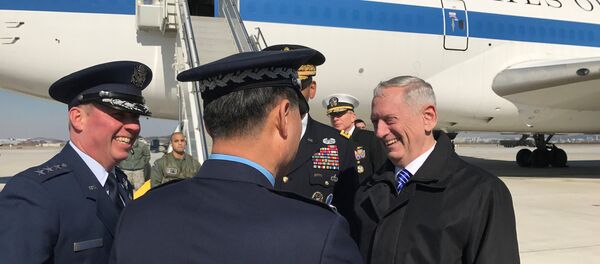 2 February 2017, 10:01 GMT
MOSCOW (Sputnik) – In October 2016, the South Korean authorities chose land which is now a part of a golf club belonging to the
Lotte Group
located southeast of Seoul as a site for THAAD deployment. In exchange for the land, the government promised to provide the conglomerate with another plot of land, also near the nation's capital.
"The issue is extremely sensitive, and there are many things to review, such as feasibility and the value of the land involved, so there was no conclusion from a single meeting. I believe there will be a number of board meetings on the matter for continuous review," the official was quoted as saying by the Yonhap news agency.
The decision to delay the property swap comes amid the first official overseas visit of US Defense Secretary James Mattis to South Korea.
In July 2016, Seoul and Washington agreed to deploy the THAAD system in South Korea's Seongju County amid growing tensions in the region spurred by North Korea's ballistic and nuclear tests. The proposed deployment has been met with objection and criticism from China.