Usachov, a veteran cosmonaut and engineer who began his career aboard the Mir Space Station in 1994 and moved on to work aboard the International Space Station with astronauts from the United States and France, says that there's nothing quite like living and working together with people aboard a spaceship that's flying above the earth at 8.5 km per second.
Speaking to Latvia's Radio Baltkom on Saturday, Usachov explained how life together in the confines of a spaceship really changes one's perspective on things happening on Earth, and offered some advice on how the wars and conflicts which plague the world today could be brought to a peaceful end.
"From space, you notice that disputes and quarrels, much of what seems to be important on Earth, all of this isn't really worth the effort, and this is a feeling that remains with you after you return," the cosmonaut said. "You start to get a different attitude toward everything. My fellow cosmonaut Valeri Polyakov told me that after his first flight, he could not even lift his hand to kill a mosquito, blowing it away instead. I myself, riding in the subway, would look at strangers and think how much I loved them! This is what spaceflight does to you."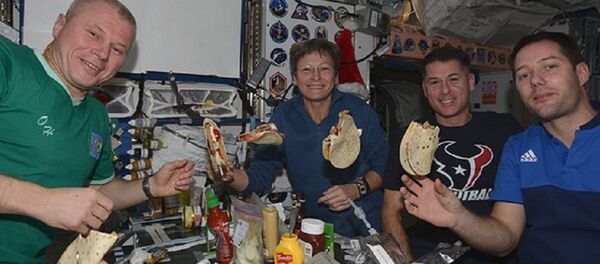 15 January 2017, 16:23 GMT
The same thing is true when it comes to working with foreign colleagues, Usachov noted. "It's amazing, but when they work together for a long time in orbit, people become very close to one another – like relatives," he said. 
The cosmonaut also recalled his efforts to create close friendships with NASA astronauts Susan Helms and James Voss prior to the Expedition 2 mission in 2001, where he served as mission commander. "I put a lot of effort into bringing our families closer together. I invited my colleagues' families to my home, to my dacha, to a Russian sauna. When we were in Houston, we played basketball together, went to the rodeo, and were invited for holidays, and this worked!" Usachov said.
The cosmonaut noted that in the course of the 167 day Expedition 2 mission, he effectively had to become an amateur psychologist. "In space, you can't just go outside and slam the door after you. What happens in such cases is a real phenomenon. People start to treat one another as if they were family. Even after our return to Earth, my colleagues would call me up and tell me they missed me. A lot of time has passed, but we remain friends to this day."
© Wikipedia / NASA
The crew of the ISS Expedition 2 mission: James S. Voss, Yury V. Usachev, and Susan J. Helms.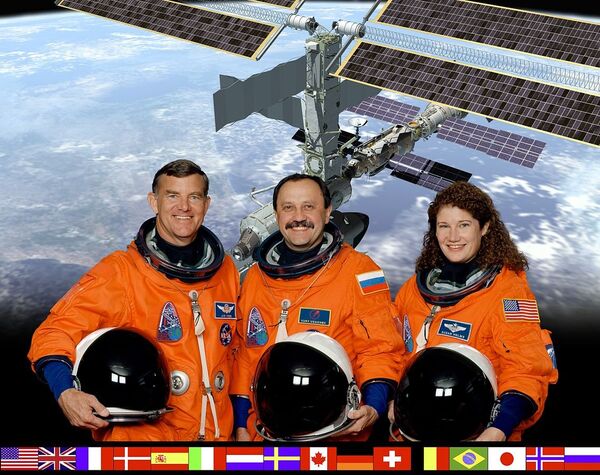 The crew of the ISS Expedition 2 mission: James S. Voss, Yury V. Usachev, and Susan J. Helms.
Usachov noted that he and his fellow cosmonauts and astronauts have a joke: "if a crew recruited from world leaders was launched for a mission into space, peace would come to the world."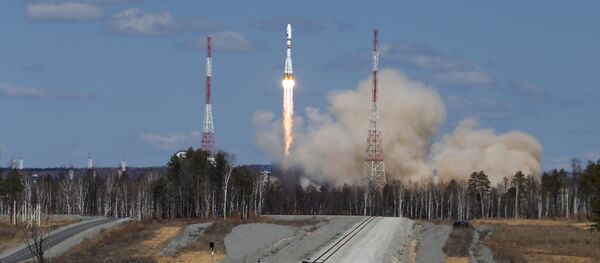 14 December 2016, 11:14 GMT
Asked about humanity's changing attitudes to space and space travel, the cosmonaut said that "space has stayed the same as it was in Gagarin's time, and the same as it was a million years ago. The only thing that has changed is [humanity's] attitude toward it. For me now this is my work, but remains a very romantic subject." 
Ultimately, Usachov suggested that one of the things that impressed him most during his spaceflights was the planet's sheer beauty. "I could admire it for hours through the window. I never got tired of it, and over my year-and-a-half in space, I never saw the same picture twice. I fell in love with the planet, whose beauty is so strong that one's desire to take it all in could not be quenched."