MOSCOW (Sputnik) — On Friday, the White House announced that Trump would speak with Poroshenko by phone on Saturday.
"Porosheko and his allies in western countries will try to hard sell the Ukrainian crisis to Trump as a key problem. A trap for Trump prepared by Obama," Pushkov posted on Twitter.
The situation in the Donetsk region town of Avdiivka has escalated harshly recently, with the population of the industrial town was brought to the brink of a humanitarian disaster after fighting between Ukrainian military and local militia intensified, leaving the town without electricity, heating and water as temperatures dropped to a freezing —22 degrees Celsius.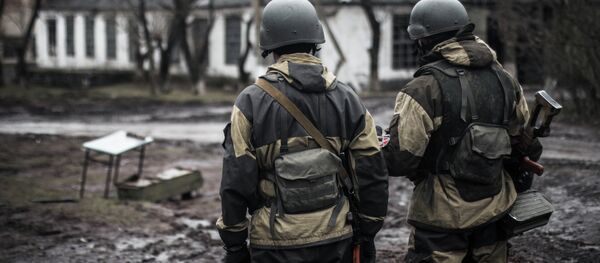 4 February 2017, 23:38 GMT
Fighting is estimated to have left over 40 people dead and more than 100 wounded.
In April 2014, Kiev authorities launched a military operation against independence supporters in the eastern Donbass region.
In February 2015, the two sides reached a ceasefire deal after talks brokered by the leaders of Russia, France, Germany and Ukraine — the so-called Normandy Format — in the Belarusian capital of Minsk. The deal stipulates a full ceasefire, weapons withdrawal from the line of contact in Donbass, as well as constitutional reforms that would give a special status to the Donetsk and Lugansk People's Republics.
Since then, the ceasefire regime has been regularly violated, with both sides accusing each other of multiple breaches, undermining the terms of the accord.