"This guy is a fraud," Sanders told CNN's State of the Union.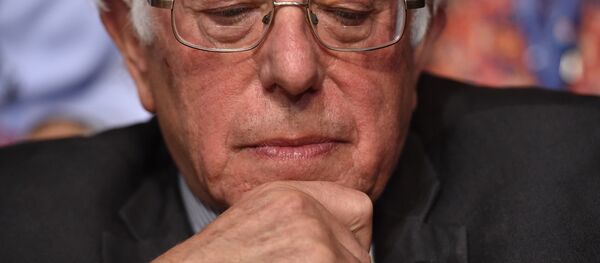 24 January 2017, 17:38 GMT
"This guy ran for president of the United States saying, 'I, Donald Trump, I'm going to take on Wall Street — these guys are getting away with murder.' Then suddenly, he appoints all these billionaires," Sanders said.
"He told us- in fact, it's in the Republican platform, he's going to bring back Glass-Steagall, we're going to be dividing up commercial banks from investment banks to insurance companies. Then he has all of the big Wall Street guys on his side, and now he is working for Wall Street." (The Glass-Steagall Act, repealed under Bill Clinton, separated commercial and investment banks.)
Gary Cohn, who heads Trump's National Economic Council, was a Goldman Sachs executive; his pick for treasury secretary, Steve Mnuchin, also comes from the multinational financial group that took billions from the US government in its 2008 bailout of "too big to fail" banks. 
Trump on February 3 signed an order asking federal regulators to come back to him in 120 days with suggestions on how to change US legislation to allow more money to flow to businesses; Sanders predicted that he would "dismantle legislation that protects consumers."
"I think he is going to sell out the middle class and the working class of this country," Sanders said.
Trump ran as the only Republican promising not to cut Social Security, Medicare and Medicaid, US public assistance programs, but that the makeup of his advisers suggests he'll do exactly that, Sanders said. He had voters fooled.
"He is a good showman, I will give you that — he is a good TV guy."
Sanders, Democratic primary rival of eventual nominee Hillary Clinton, ran a campaign focused on economic inequality in the US and on challenging corporate power. Trump pretended he would do that, too, he said. 
"You have a president who, I think, in a totally fraudulent campaign said that, 'I'm going to stand up for the working people,'" the senator elaborated.
"Look at his Cabinet: we've never had more billionaires in a Cabinet in the history of this country. Look at his appointees. These are people who are going to go after the needs of working families, the elderly, the children, the sick, and the poor. That is called hypocrisy."
Citing the president's habit of tarring all media as "fake news," and of consistently putting himself and his opinions as the final authority, Sanders predicted that mainstream conservatives would soon find themselves in a very difficult position and hoped they would stand up to Trump's authoritarianism.
"We are not another Trump enterprise," he said. "It's called the United States of America. We're not a business run by Mr. Trump."