During desert drills, the F-35 Joint Strike Fighter faced potent threats, including radar jammers, surface-to-air anti-aircraft missiles, and mock opposition aircraft. The F-35's avionics software was "the star of the show," Popular Mechanics reported. 
The F-35 uses virtual-reality technology to create a realistic heads-up display inside the pilot's helmet, an autonomic logistics information system dubbed the jet's 'nerve center,' a laser-based electro-optical missile-targeting platform, and a sensor-fusion system that uses several onboard sensors to "create a single integrated picture of the battlefield," Sputnik reported. 
As part of the battle simulations, the sensor-fusion system discovered each individual threat on the battlefield in a way that made the F-35 indispensable, even after it ran out of munitions. This scouting ability of the F-35 amplified the potency of F-22 Raptors and other legacy jets in the fleet.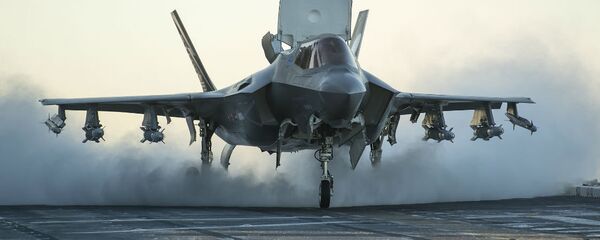 20 January 2017, 00:28 GMT
"Before where we would have one advanced threat and we would put everything we had--F-16s, F-15s, F-18s, missiles--we would shoot everything we had at that one threat just to take it out," Lt. Col. George Watkins told Aviation Week. As a result of the F-35's battlefield-intelligence gathering, "now we are seeing three or four of those threats at a time," he said. 
A duo featuring the battle-test F-22 and frequently behind-schedule, over-budget F-35, proved to be exceptionally powerful, pilots said following the tests. "When you pair the F-22 and the F-35 together with the fourth-generation strikers behind us, we're really able to dominate the airspace over the Nellis test and training range," Watkins observed.