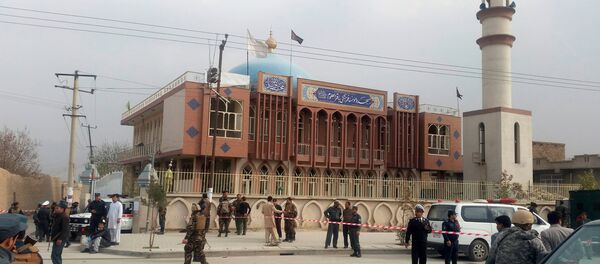 7 December 2016, 22:50 GMT
MOSCOW (Sputnik) — Russia is interested in developing cooperation with Afghanistan in various spheres, like security or economy, and supports the efforts of the Afghan leadership on stabilizing situation in the country, Russian Foreign Minister Sergey Lavrov said Tuesday.
"Russia and Afghanistan are long-time close partners. We reaffirm our interest in further developing cooperation in security, economic, and humanitarian spheres," Lavrov said at a meeting with Afghanistan's Foreign Minister Salahuddin Rabbani.
He stressed that Moscow was supporting the efforts of the Afghan government on stabilization of the social and political situation, as well as its counter-terrorism efforts.

4 December 2016, 15:03 GMT
Lavrov expressed satisfaction with the intensity and level of the Moscow-Kabul political dialogue, bilateral contacts at the parliamentary level, cooperation in foreign affairs and, in particular, close interaction between Russia and Afghanistan in the United Nations and other international organizations.
Lavrov also stated that Russia is ready to provide assistance to Afghanistan in supplies and maintenance of military equipment.
"We confirmed today to Afghanistan our assistance in supplies and maintenance of the military equipment, we have corresponding abilities and corresponding agreements," Lavrov said.
Russia believes that Taliban militants should be engaged in Afghan crisis resolution negotiations, according to Lavrov.
"We reaffirmed our mutual position that the Taliban movement should engage in constructive dialogue, taking into account the criteria laid out in UN Security Council resolutions which the Afghan government supports," Lavrov said.
Afghanistan is in a state of political and social turmoil, with Taliban insurgents and other extremist including the Daesh, taking advantage of the instability in the country. Russian authorities is actively engaged in searching for the means to the Afghan settlement. In December, Moscow hosted trilateral Russia-China-Pakistan consultations on the issue.