WASHINGTON (Sputnik) — US President Donald Trump said in an interview that he does not know what is happening in Ukraine in regard to the unrest in the country's east and needs to find out more information.
"We don't really know exactly what that [stepped up violence] is, their pro-[Russian] forces, we don't know if they're uncontrollable, are they uncontrolled, that happens also. We're going to find out, I wouldn't be surprised, but we'll see," Trump told Fox News in an interview aired on Monday.
The situation in southeastern Ukraine has grown significantly worse over the past week, in particular near the town of Avdeevka, where clashes between the government forces and the self-proclaimed Donetsk People's Republic (DPR) militia have intensified. The two sides accused each other of initiating the violence.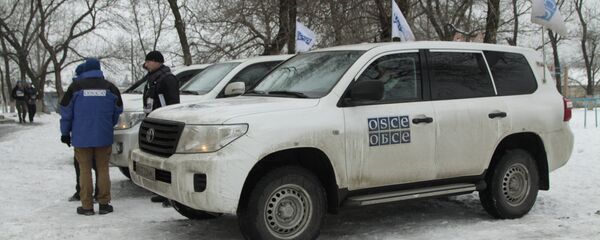 6 February 2017, 18:11 GMT
These altercations have left local residents without water supply, central heating and electricity amid freezing temperatures. On Sunday, Ukrainian President Petro Poroshenko said that the power supply to Avdeevka was restored.
On Monday, monitors from the OSCE Special Monitoring Mission in Ukraine (SMM) said they registered the use of banned heavy weaponry along the contact line in southern Donbass region. According to the SMM Principal Deputy Chief Monitor Alexander Hug, the number of truce violations by both sides rose near the towns of Avdeevka and Yasinovataya.
Kiev launched a military operation against DPR and neighbouring People's Republic of Lugansk (LPR) in 2014, when the two refused to recognize the new Ukrainian government that came to power after a coup.
In 2015, the two sides reached a ceasefire agreement in Minsk after the negotiations brokered by the presidents of Russia, Ukraine and France, as well as by the German chancellor. The Minsk accord included withdrawal of heavy weaponry from the contact line in eastern Ukraine among other provisions.