The Iranian military tested a short-range Mersad surface-to-air missile, according to the news outlet. 
The missile landed 35 miles away from where it started, a US official told Fox.
Just days ago, President Donald Trump slapped a slew of new sanctions on entities thought to support Iran's ballistic missile program. Iran retaliated with its own set of sanctions, adding that Trump's sanctions "are not compatible with America's commitments and Resolution 2231 of the UN Security Council that endorsed the nuclear deal reached between Iran and six powers."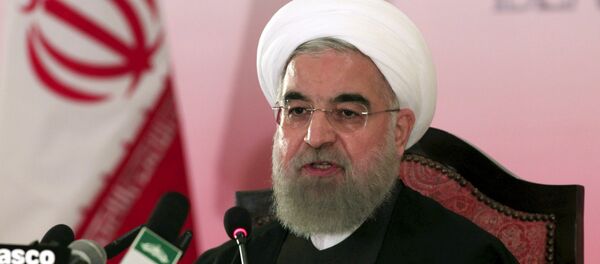 3 February 2017, 19:18 GMT
Satellite images previously showed that Iran was going to use the pad to send a satellite into space atop a Safir rocket, but the send-off apparently was scrapped. "The reason Iran scrubbed the previous launch is not yet known," ZeroHedge reported. 
Critics have pointed out that the Mersad air defense system fires surface-to-air missiles that are essentially reverse-engineered Raytheon MIM-23 Hawk missiles. 
The missile launch occured following reports that Trump was considering designating Iran's Islamic Revolutionary Guard Corps as a terrorist outfit. Trump and his team consider Iran the "clearest danger" to America's interests, a senior aide told Rueters. 
According to White House National Security Adviser Michael Flynn, the days when Washington turned a "blind eye" to Iran's "hostile and belligerent actions" are "over."
The US Department of Defense declined to comment when RIA Novosti asked the agency about Iran's missile tests. "We don't have any additional information," Pentagon spokesman Christopher Sherwood said. 
Fox News and Zero Hedge are the only media outlets that have provided details on the launch.