A bipartisan group of US lawmakers, led by Republican Representative Ileana Ros-Lehtinen and Democratic Senator Robert Menendez, is said to have sent Trump a letter asking him to impose restrictive measures on officials implicated in corruption and human rights violations. It specifically targeted Tareck El Aissami, who has served as Venezuela's vice president since January 4, 2017.
"Judging from what they say, it would appear that my country is ruled by a dictatorship. Perhaps, this is a means to force Trump to pull the trigger on [Washington's] relations with Venezuela since earlier he said that this was not a priority to him," Rodriguez suggested.
The bipartisan initiative is said to have come in response to an Associated Press investigation into Venezuela's food imports. The probe also called for an enquiry into El Aissami's alleged ties to drug traffickers and Middle East terrorist organizations.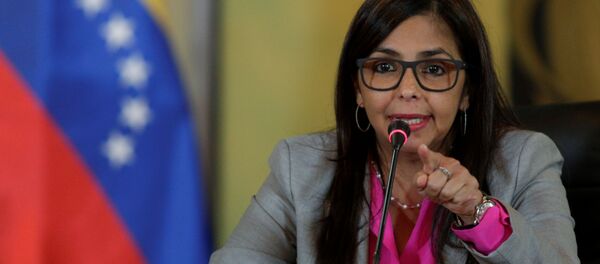 25 January 2017, 04:16 GMT
Rodriguez, the vice president of Venezuela's state-owned VTV public television network, expressed doubt that the fact that El Aissami was mentioned in the AP investigation and the letter sent to
Trump
was a coincidence.
In 2005, Hugo Chavez severed Venezuela's ties with the US Drug Enforcement Administration over spying accusations. Over the next seven years Caracas carried out a large-scale campaign against drug trafficking, the journalist said.
"El Aissami served as the minister of the interior and justice from 2008 to 2012. He is responsible for weakening drug cartels in Venezuela," Rodriguez said. "If you take a look at the career path of this official and the US response, you will see patterns emerge. … Perhaps, the reports which directly accuse the vice president are meant to draw reaction from the Venezuelan government and to spark a diplomatic war which will sour relations between the two countries."
Never miss a story again — sign up to our Telegram channel and we'll keep you up to speed!