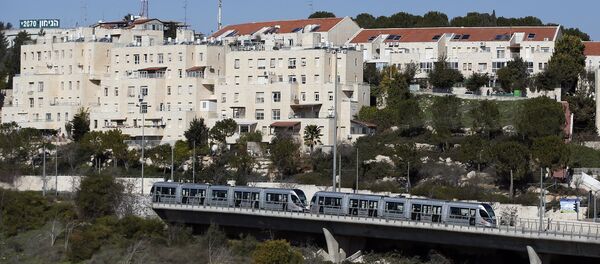 3 February 2017, 16:05 GMT
Trump is not inclined to move the US embassy from Tel Aviv to Jerusalem, according to Israeli media reports, despite making several assertions on the topic during his campaign.
According to various Israeli media citing Palestinian media, Palestinian Authority leaders have received a "reassuring" message from the Trump administration. The reports also say US security officials spoke directly to Palestinian intelligence head Majid Faraj.
While these reports are yet to be confirmed, Trump had already been presenting a more moderate position, notably during an interview for Israeli newspaper Israel Hayom.
"I am thinking about the embassy, I am studying the embassy [issue], and we will see what happens," Trump reportedly said earlier. "The embassy is not an easy decision. It has obviously been out there for many, many years, and nobody has wanted to make that decision. I'm thinking about it very seriously, and we will see what happens."
The issue of relocating the US embassy was also raised during the visit of King Abdullah of Jordan, who said that preserving the multi-religious status of Jerusalem is very important.
"In our view, Jerusalem is extremely important. Our firm stance is that we reject any unilateral efforts that attempt to change the Arab, Muslim and Christian identity of the Holy City," said Jordanian foreign minister Al Safadi.
Trump the president has been more critical of Israel's policy towards Palestine than Trump the candidate. He recently criticized Israel's policy of building settlements on Palestinian territory, saying this practice "doesn't help the peace process."
"We are looking at that, and we are looking at some other options we'll see. But no, I am not somebody that believes that going forward with these settlements is a good thing for peace," he said in an interview with an Israeli journalist.
He was, however, extremely critical of the December resolution by the UN Security Council that expressed the same sentiment: calling for an end to settlement building as detrimental to the peace process and illegal under international law.