During the news conference, Trump asserted that in "these dangerous times, it is more important than ever that we continue to strengthen our vital alliance." He stated that the US is "deeply grateful" for Canada's contribution to the counter-ISIS effort.
"We continue to work in common, and in common cause, against terrorism," Trump said. "And work in cooperation toward reciprocal trade and shared growth. We understand that both of our countries are stronger when we join forces in matters of international commerce. Having more jobs in trade right here in North America is better for both the United States and is also much better for Canada."
​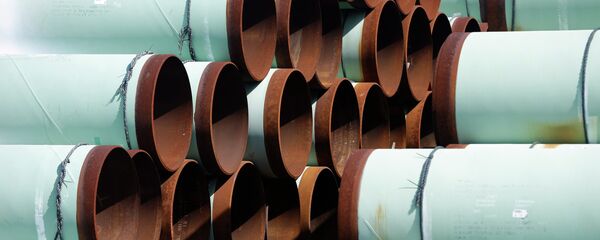 22 December 2016, 19:00 GMT
Trump asserted that he and Trudeau will be coordinating closely to protect jobs "in our hemisphere," keep wealth "on our continent," and keep everyone safe.
Trudeau, for his part, stated that any day he gets to "visit our southern neighbors" is a good day in his book. He spoke in both English and French, switching between the two.
The Prime Minister asserted that relationships between neighbors are often "complex," and that the two nations will not always agree on everything.
"But, because of our deep abiding respect for one another, we're able to successfully navigate those complexities and still remain the closest of allies and friends," Trudeau said.
Trudeau said that "at the end of the day, the president and I share a common goal. We both want to make sure hard-working folks can go to work at a good job, put food on the table for their families, and save up to take a vacation every once in a while. That's what we are trying to do here."
The Prime Minister announced that they discussed collaborating on energy infrastructure projects that will create jobs while respecting the environment. He also announced the creation between himself and Trump of the United States-Canada Council for Advancement of Women Entrepreneurs and Business Leaders. Earlier, the two world leaders had participated in a roundtable on women in the workforce, with an agenda set by Ivanka Trump, who has been an outspoken advocate for women's issues. Nine career women were also selected by the First Daughter to participate in the meeting.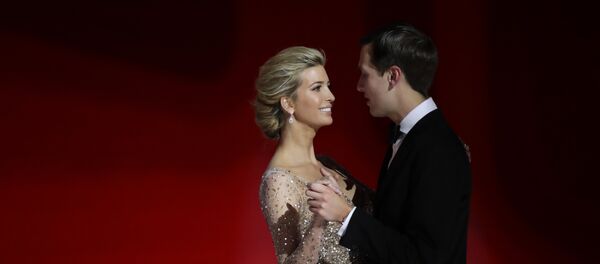 4 February 2017, 19:10 GMT
Included in the meeting were top female executives and CEO's from both nations, including General Electric Canada CEO Elyse Allan, Chair of the Board of Directors for Investissement Quebec Monique Leroux, Carol Stephenson of the board of directors for General Motors, and TransAlta CEO Dawn Farrell.
The discussion was set to focus on how to "encourage more connectivity and business activity between women business leaders between our two countries." Topics were expected to include how to provide maternity leave, childcare, and how to better support female entrepreneurs.
Trump and Trudeau also held a bilateral meeting and a working lunch.
"No two countries share deeper or broader relations than Canada and the United States.  We are bound together by our history, our values, our economy, our environment, and our resolve to improve the lives of our citizens.  Our close relationship and ongoing collaboration allow us to successfully meet any challenges we may face over the coming years, and to build a prosperous future for the people of both countries," Trudeau and Trump said in a joint statement following the meeting.
The leaders hold many conflicting views on policy, and Trudeau tweeted an appeal to refugees, stating that they are welcome in his nation, after Trump issued his executive orders on immigration.
The joint statement expressed their mutual interest in keeping the border secure, however.
"We recognize the security of our borders as a top priority," the statement read. "Together, we address security at our shared border and throughout our two countries, while expediting legitimate and vital cross-border trade and travel.  We demonstrate daily that security and efficiency go hand-in-hand, and we are building a 21st century border through initiatives such as pre-clearance of people and integrated cross-border law enforcement operations.  In addition, our two countries are committed to a coordinated entry-exit information system so that records of land and air entries into one country establish exit records for the other."
When asked by a reporter during the press conference if Trump believes the northern border to be secure — based on Trudeau's tendency to "hug refugees" — Trump asserted that you can never be fully confident, but that "through the incredible efforts already, I see it happening."
Trudeau responded by saying that the reason his nation has had "success" with their refugee program is because of how closely they are working with their allies.
"Keeping Canadians safe is one of the fundamental responsibilities of any government and that is certainly something we are very much focused on," Trudeau said. "At the same time, we continue to pursue our policies of openness towards immigration of refugees without compromising security."
"Security and immigration need to work very well together… we had a long and fruitful discussion on exactly that."
He also stated, however, that "the last thing Canadians expect is for me to come down and lecture another country on how they choose to govern themselves."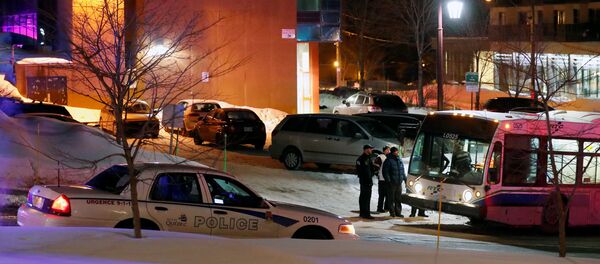 30 January 2017, 17:18 GMT
Trump has also vocally opposed the North American Free Trade Agreement with Mexico and Canada — though he has been more outspoken about trade with Mexican businesses than Canadian. In the joint statement, the leaders expressed desire to work together to provide economic growth in both nations through a mutually beneficial fair trade partnership.
"We recognize our profound shared economic interests, and will work tirelessly to provide growth and jobs for both countries," the joint statement asserted. "Canada is the most important foreign market for thirty-five U.S. States, and more than $2 billion in two-way trade flows across our shared border every day.  Millions of American and Canadian middle-class jobs, including in the manufacturing sector, depend on our partnership.  We affirm the importance of building on this existing strong foundation for trade and investment and further deepening our relationship, with the common goal of strengthening the middle class."
The written statement concluded by saying that "the partnership between the United States and Canada will continue to be unique and a model for the world."