MOSCOW (Sputnik) — On Sunday, the HNC umbrella organization, which had previously insisted on its exclusive right to represent the Syrian opposition, changed its delegation for the upcoming round of Geneva talks and published the list of 21 participants in social media. Khaled Mhameed, a member of Cairo group, was also in the list.
"The HNC cannot chose themselves on our members without consulting with us. They do not want cooperation, they want 'accessories.' So they called us and said: we want to take one person from Moscow, and one from Cairo [groups]. We said no to them, because why should we join the HNC? What we want is to form a joint opposition delegation," Makdissi said.
Mhameed made a statement later explaining he would not act as an official Cairo group representative inside the HNC, but rather as an independent figure.
"We refused, but we also gave the HNC an offer – to form one delegation of the three platforms – Moscow, Cairo and the HNC. And they said no. … We are in a very tough situation. They want to absorb us. We will not agree on that. And we will not betray the Moscow platform," Makdissi said.
He added that the Cairo group was now waiting for the actions from UN Special Envoy for Syria Staffan de Mistura to make the situation with a single delegation clearer.
Delegations to the new round of the intra-Syrian talks are expected to arrive in Geneva starting from February 20 and to have a number of technical meetings before the talks kick off officially on February 23, according to de Mistura's office.
Cairo Group of Syria Opposition Hopes Astana Meeting to Open Path for Political Settlement
The Cairo group hopes the upcoming Astana meeting on Syria will open path for the political settlement, Makdissi told Sputnik.
International mediators will once again try to organize negotiations between the Syrian government and armed opposition during a meeting in Kazakhstan's capital of Astana that will take place on Wednesday and Thursday.
"I think the idea of Astana meeting is good. Organizing the military track is important, it will open the way on the political front," Makdissi said.
The new Astana meeting will be held in a format similar to the previous negotiations on January 23-24, with Russia, Iran and Turkey being the mediators. Jordan and the United States are invited as observer states.
Makdissi praised Turkey's participation in Astana meeting.
"Having Turkey there is important. The fact that they are sending people to Astana is a good sign that they want to cooperate. We need to talk to the regional powers as well," he added.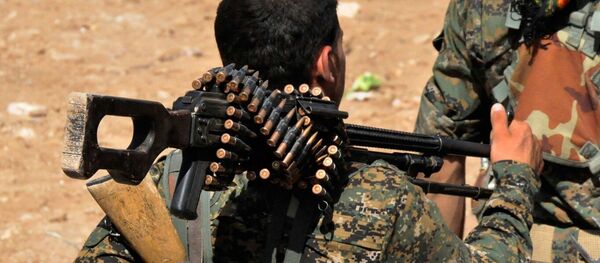 13 February 2017, 12:55 GMT
Astana meeting will also be attended by five UN representatives, according to Kazakhstan's Foreign Minister Kairat Abdrakhmanov.
Initially only a session of the joint task force (JTF) created by Russia, Iran and Turkey was scheduled for February 15-16, but later delegations of the Syrian government, armed opposition, UN Special Envoy for Syria Staffan de Mistura, representatives of Russia, Iran and Turkey, the three guarantors of the ceasefire, as well as the United States and Jordan were also invited.